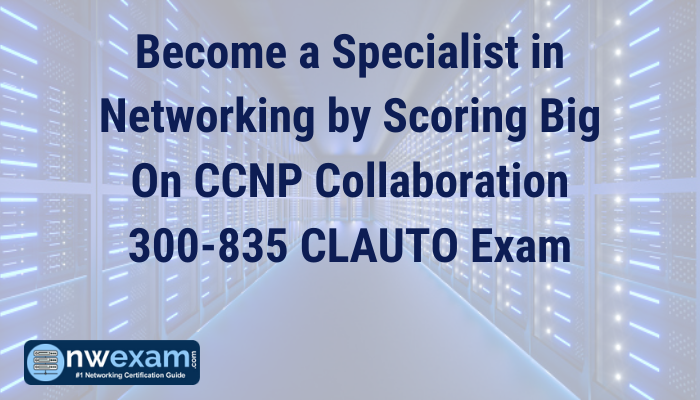 Cisco 300-835 CLAUTO is one of the five CCNP Collaboration concentration exams that evaluate an applicant's knowledge of implementing applications that automate and extend Cisco Collaboration platforms, including programming concepts, APIs and automation protocols, and Python programming. Cisco 300-835 exam is also known as Automating Cisco Collaboration Solutions.
Cisco 300-835 CLAUTO Exam Details
The Cisco 300-835 CLAUTO exam includes 55-65 questions that you need to complete within two hours. The exam questions will have formats like fill-in-the-blank, multiple-choice, simulation, testlet, drag-and-drop, and simlet. You can learn more about these types on the Cisco official website. Also, every exam taker should schedule their exam on the Pearson VUE website and pay a $300 fee.
Prerequisites
There are no former prerequisites for Cisco 300-835 CLAUTO exam, but it is recommended that you familiarize yourself with the topics and structure of the exam before sitting for the exam. But it is good to have three to five years of experience in implementing and maintaining collaboration solutions.
How To Prepare for Cisco 300-835 CLAUTO Exam?
The applicants should begin their preparation ahead of the exam. You require to evaluate how much time can you give to the practice and pick any one of the following resources:
Though, there are many platforms where aspiring applicants can find and obtain the essential study resources for CCNP Collaboration 300-835 CLAUTO examination. So here are a few study resources that you can get anywhere without much effort very promptly.
You can get the best-essential self-study material on the official website of Cisco for this exam. Moreover, if you will search on the website for the Cisco 300-835 CLAUTO certification exam, then the study material will be exposed to you, which can be purchased directly from the website.
Although the Cisco press is the only platform where you can buy all the required books related to Cisco 300-835 certification exam, therefore you must go through study guides and books if you want to pass the exam. In addition, some of the applicants like to enroll in online classes, where the learning material will be given to them.
However, they will also get one-on-one guidance for each topic that requires to be covered in the Cisco 300-835 CLAUTO exam. Apart from that, the applicants can also take advantage of practice tests and other free study resources available on various websites throughout the internet.
Some Essential Tips for Passing Cisco CCNP Collaboration 300-835 CLAUTO Exam
To have a solid grasp of the exam syllabus, assure that you thoroughly study all the topics without skipping any. This guarantees a strong foundation of exam preparation, thus a more carefree time when attempting Cisco 300-835 CLAUTO practice tests.

Take plenty of practice tests to familiarize yourself with the skills expected in answering the exam questions. Practice exams also benefit in examining where you have not completely understood, thus revising on definite topics. After identifying the topics, you are weak in, work upon them.

Practice on virtual lab to practice the knowledge acquired from the syllabus.

Stop procrastinating. Start your preparation three to four months in advance of the registered exam date.

Join online study groups to get help in areas where you are stuck.
Is the Cisco 300-835 Exam Worth It?
Cisco 300-835 CLAUTO exam is one of the most difficult exams, and you will have to study hard to pass it. Like many other applicants out there, you might be thinking whether it's worth the effort.
To earn the CCNP Collaboration certification, you will have to pass this exam along with the core exam. Cisco certifications are acknowledged in the It field as greatly prestigious. With the CCNP Collaboration certification, you will attract attention during a job interview. For organizations, it's a sharp sign that you are dedicated to becoming an expert and want to expand your career in networking.
So, with CCNP Collaboration certification listed in your resume, your odds of securing a highly-paid job drastically increase. It also helps you rise above the ranks and also upgrades your earning potential. Besides, the fact that you passed your Cisco 300-835 CLAUTO exam confirms that you possess advanced skills and knowledge.
Conclusion
Before you start pursuing the CCNP Collaboration certification, it's crucial to note that earning this certification exam is not a walk in the park. But, with the help of reliable resources and practice tests from NWExam.com, you can get a flying score. Set the goal to establish a successful career in IT and move towards it.