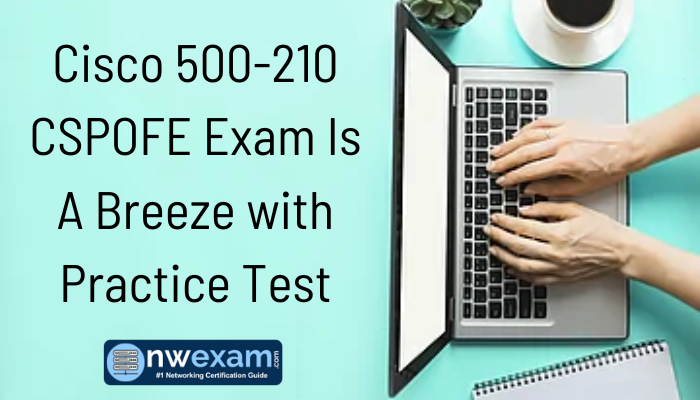 The Cisco Channel Partner Program exam has immense credibility. This certification unlocks doors to greater and better opportunities for an IT professional. The Cisco Channel Partner Program exam is the benchmark for knowledge and proficiency. The Cisco Channel Partner Program exam confirms the expertise and verified skills for the Cisco exam and associated technology. If you are the one whose area of training or interest is connected to the Cisco Channel Partner Program, you can take into account the Cisco SP Optical Technology Field Engineer Representative 500-210 CSPOFE exam.
Cisco 500-210 CSPOFE Exam Details
Cisco 500-210 CSPOFE exam 75 minutes long and taken in English. To register for it, you need to visit the Pearson VUE platform and pay $300. But note that before sitting this Cisco exam, you must master the concepts of exam topics to get a good score in the exam.
Cisco 500-210 CSPOFE Exam Topics
Fundamentals (10%)

Basic Operation, Installation, and Turn-Up (30%)

Transponder, Muxponder, and Circuit Provisioning (30%)

nLight ROADM Configuration (30%)
Study Tips to Pass Cisco 500-210 CSPOFE Exam
1. Create Study Plan
Cisco 500-210 CSPOFE will examine you in four domains. You require to learn each thoroughly before you opt for the exam. Don't only remember the information but try to understand each concept fluently. Create a study plan; you can assign your time as per your familiarity and understanding of Cisco 500-210 syllabus topics, how much time you ought to commit on a daily basis, and which study resources & videos you find most suitable to understand and soak up the exam concepts, and what is the most suitable training method for you to pass this exam.
2. Take Recommended Training
Many of us depend on self-study in our careers, but when taking your Cisco CSPOFE exam, it is advisable to attend recommended training. Cisco requires that you have formal training. Training tutorials will help you comprehend the Cisco 500-210 syllabus topics in a new dimension and give you a distinct perspective. The below-mentioned course is the recommended training for Cisco 500-210 CSPOFE exam.
3. Use Cisco 500-210 CSPOFE Practice Tests to Gauge Your Preparation
Conditioning your brain with similar questions and making your pace with Cisco exam questions is challenging, so before you actually sit for the Cisco 500-210 CSPOFE exam, try to attempt as many practice tests as possible. Additionally, many times these exam situations draw out stress and anxiety, and performing Cisco 500-210 CSPOFE practice tests will ultimately boost the confidence and persistence of the aspirant to deal with exam pressure.
4. Join Online Communities and Groups
Joining an online community or group will be an excellent way to solve your doubts and give you opportunities to associate and network with other professionals. Establish an ideal environment with the right people around you who can help you build solid concepts for the syllabus and understand the exam structure.
5. Watch YouTube Videos
YouTube has loads of information. Search for Cisco 500-210 CSPOFE videos, and you get information about the exam. You can have these videos play on the go while going to the office or accomplishing your tasks. Listening to YouTube videos can cement the Cisco SP Optical Technology Field Engineer Representative knowledge.
Why Is Cisco 500-210 CSPOFE Certification Beneficial?
There are lots of benefits of Channel Partner Program certification. The results will oftentimes privilege your partners, clients, and your business. Below are just a few of the benefits of earning Cisco 500-210 CSPOFE Certification.
More Powerful Network With Improved Communication
When you educate your channel partners, you open lines of communication for yourself. These lines of communication help resolve issues regarding your products, protocols, or performance expectations in an early stage before they can become a big problem. Sharing networks make it apparent that you are in it together between you and your partners.
Your Partners Deliver More Satisfactory Customer Support
You can prepare your partners for customer support. They can deliver solutions to challenging problems efficiently, which greatly reduces the odds of you losing any clients. You should never ignore that it costs five times more to gain a new customer than to keep a present one. When your partners are sufficiently familiarized with customer support, your customers become more promising about your products.
Having Cisco 500-210 CSPOFE Certification Boosts Your Sales
Measuring customer satisfaction is one of the significant components of an ongoing sales procedure. When you educate your partners on finer communication with clients, you pave the way for them to influence the sales process positively.
Accelerated Growth
When you have Cisco's effective channel partner training strategy at your service, you will always be ready to prepare your next partner without difficulty and swiftly. You'll have the resources to expedite their learning process without delaying for them from catching up to where you are.
Wishing you success in obtaining the Cisco 500-210 CSPOFE certification and the enhanced career to follow!