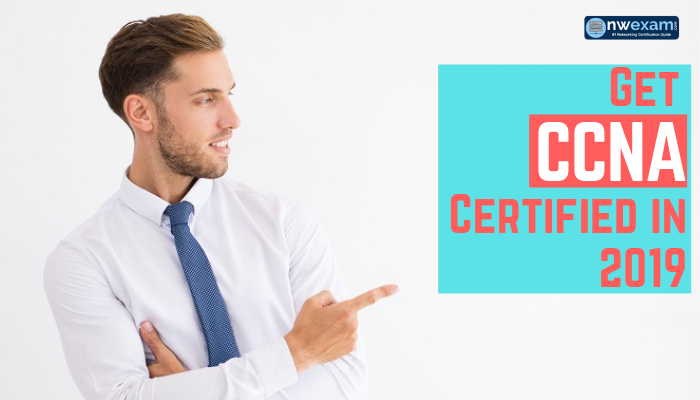 Are you thinking about setting goals and resolutions for this year? With the right preparation, it's very achievable, especially in information technology and security jobs. For example, the demand for cybersecurity specialists keeps outpacing the number of qualified candidates. But how do you make this goal a reality? For starters, get your CCNA in 2019!
What can you do with a CCNA certification? As a Cisco Certified Network Associate (CCNA), you will have the credentials to get started in any of several IT career paths. This is considered a key certification that tells inherent employers you have mastered the concepts and skills needed to manage and troubleshoot networks, including LAN, WAN, and VLAN. The CCNA is also the foundation for a lot of specialized tracks. After completing your primary CCNA, you can go on to earn the CCNA R&S, CCNA Cloud, CCNA Security, and more.
But before we start planning your long-term career, let's go step by step through how to get your CCNA in these simple 6 steps:
Choose your exam

Select a CCNA Certificate

Practice and home lab tips

Schedule your exam

Take the exam

Look to the future
Here's how to get your CCNA in 2019:
1) Choose Your Exam
There are two ways to Archive your CCNA certification exam. You can take one all-inclusive test, called the CCNA Composite exam, or you can divide your testing up and take two exams, 100-105 ICND1, and 200-105 ICND2. Either way, you will end up with your CCNA credential. If you choose to complete two exams, you will receive a prefatory certification along the way. Let's break down the pros and cons of getting the CCNA in one exam versus two exams so that you can choose the appropriate exam preference for you.
Taking the 100-105 CCENT (ICND1) and 200-105 CCNA Routing and Switching (ICND2) vs. the CCNA Composite exam
After passing the first exam, ICND1, you will receive your CCENT certification (aka Cisco Certified Entry Networking Technician). This credential confirms very extensively IT skills, but most employers prefer applicants who have got their CCNA by completing ICND1 and ICND2. Each of these options includes the same material and topics, and the CCNA certification price is the same, so it comes down to your study style and needs.
One exam: CCNA Composite:
Pro: This is excellent for people who are taking a course that does not divide the lessons up according to the ICND exams.
Pro: No juggling multiple test dates. When you've passed one, you are done!
Pro: You will not lose your momentum between the two exams.
Pro: There's only one commute to take the full Cisco CCNA certification exam.
Con: If for some reason you require to retake the CCNA Composite exam, you will have to pay the full fee and go back for the time it needs to complete the exam again.
Two exams: ICND1 and ICND2:
Pro: You can register the two exams separately, giving you time to take and pass ICND1 before you commit to another exam date.
Pro: The two-exam structure makes it simpler for people who want to focus on a smaller group of skills and concepts at one time.
Pro: Getting a certification halfway through the process can help you stay motivated with more milestones.
Pro: You need to pay for each ICND exam separately, rather than the full CCNA fee all at once. It's great when you are trying to budget your career investment over time, or if for some reason you have to retake one of the ICND exams.
Con: You will have to take the exams separately at a testing facility, which can be awkward if your next exam location is far away.
2) Select a CCNA Certificate
Your decision to receive your CCNA with one exam or two does not affect how to study for CCNA certification, because overall the CCNA exam topics will be the same. Whatever you choose, your study efforts have to focus on two key aspects of mastering the subject matter: CCNA theory and practice. Again, you have options.
If you are already familiar with IT terminology and have some experience with networking, then a self-guided study plan may be a good fit for you. This takes self-discipline, but the benefit is that you have a study schedule and resources that are catered to your unique needs. Self-study may be an engaging option if you do not have the finances to invest in CCNA certification training.
If you are curious about how to start a CCNA self-study plan, consider reading the Authorized Self-Study Guide: CCNA Preparation Library. This Cisco-authorized book is very thorough and in its seventh edition. If you do a self-guided study course, you will need to assemble a practice lab to put the concepts you read into practice.
Most candidates opt for CCNA Certification training that lays out what you require to learn, and helps practice labs. Online practice exams help guide you through all the tools and concepts you require to prepare for the CCNA exams and give you milestones and feedback.
This is an excellent way to prepare for CCNA Certifications. CCNA practice test will measure your knowledge and make you easy with your real exam conditions. Practice tests on NWExam.com are designed in such a way that will help you in getting the know-how of how to tackle the actual paper and prepare for the same in the best means possible.
So online learning just makes sense for a lot of people. Whether you join in a Cisco Online Practice or study on your own, the Cisco Learning Network is a beneficial resource and forum where you can get advice, study materials, and Cisco CCNA practice questions. Depending on what comes with your study course, you may require to set up a CCNA home lab, which will cover momentarily.
3) Build a Home Lab and Get Hands-On Practice
What is the best way to pass the CCNA? Study smart and practice hands-on skills as much as you can.
The CCNA exams cover real-life problems that you could face as a network associate. The best way to prepare for these real problems is to obtain working experience with networking hardware during your training. Many training courses cover access to a virtual practice lab, so you do not have to set up your own. Virtual labs save money and space, but if you learn by handling the technology, you might still want to make a practice lab.
CCNA Lab Routers and Switches
If you need to set up a home lab, you can order a pre-packaged kit that comes with all the hardware you require to connect with your computer. Because hardware can go out of date, check with your course curriculum and study guide for the correct router and switches models you will be tested with.
Cisco's 1800 series routers are recommended for practice labs because they are a simple and affordable option for beginners.

Layer 2 switches can assist you to complete most of the exercises you will require to do in preparation for your exam, but they require to be paired with a router for more complicated networks.

Layer 3 switches enable you to work with more various networks that need routing. They can do everything a Layer 2 does, plus they have dynamic and static routing capabilities.

Do not forget that you may need to buy connector cables separately.
4) Schedule Your Exam
Once you are confident in your progress studying, it's time to think about when to take your exam. Do not feel rushed to take the exam. Three to six weeks before you are ready to take the exam, schedule and register your test date and location. With several weeks left to prepare, you'll have a pretty good idea where and when you can sit for your exam.
The Cisco CCNA exams each have a code, and all of the test options for getting this certification are given by Cisco's exam partner, Pearson VUE. To register and schedule for an exam, you can go directly to Pearson VUE's website, or choose your certification exam on the Cisco website and link to the relevant Pearson VUE page.
You have to sit for your exam at an actual testing center. Fortunately, there are many sites around the U.S., including on many military bases.
5) Take the Exam!
Leading up to test day, remember to practice good test-taking habits:
Get a good sleep the night before.

Eat a balanced meal before your exam.

Make sure you have all the required ID.

Check what you are allowed to bring with you into the test room.

Each exam is 90 minutes. Schedule your day accordingly.

Believe in yourself. You have put a lot of work into studying, and it's time to show what you can do.
6) Look to the Future
Once you have got your CCNA, be proud of yourself! This credential will open doors to interesting career opportunities. As you add to your experience, you may want to get a specialty and advance in the tech industry. You will stand out to employers with additional Cisco certifications in Security, Routing and Switching, Collaboration, or others. And, your original CCNA certification is automatically renewed if you clear any Cisco certification exams at the same level or higher.
With a Cisco CCNA certification and in-demand IT skills, you will be able to set and obtain your biggest career goals in 2019 and beyond.