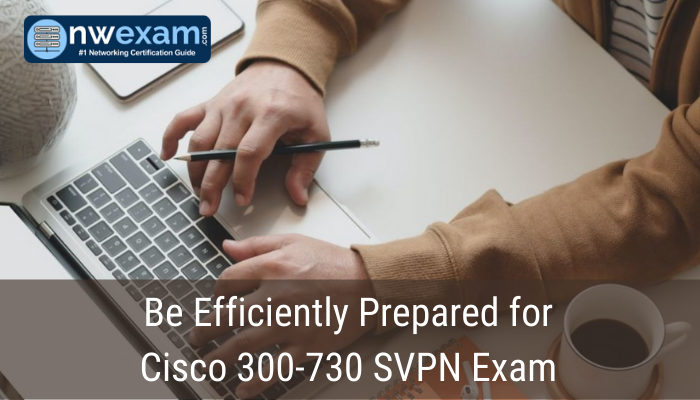 Cisco 300-730 SVPN: Implementing Secure Solutions with Virtual Private Networks is one of the concentration exams you can take to obtain the CCNP Security Certification. To achieve the CCNP Security certification, you must pass the core exam, 350-701 SCOR: Implementing and Operating Cisco Security Core Technologies.
Cisco 300-730 SVPN is a 90-minute exam associated with the CCNP Security Certification. This exam measures an applicant's understanding of implementing secure remote communications with Virtual Private Network (VPN) solutions, including secure communications, architectures, and troubleshooting.
Is the Cisco 300-730 Exam Worth It?
The Cisco 300-730 SVPN exam is one of the six concentration exams you must pass to obtain the CCNP Security certification. This exam is challenging, and you need to work hard to get through the exam. But, all the hard work pays off once you pass this certification exam.
For you to obtain the CCNP security certification, you will have to pass this exam among core exams. Cisco certifications are accepted in the industry as extremely worthwhile. With the CCNP security certification, you will stand out from the group of similar applicants in a job interview. For organizations, it's a bright sign that you are committed to constant learning and want to advance your career in networking.
Thus, with this certification on top of your resume, your chances of securing a highly-paid job greatly increase. It also helps you stand above the ranks and also raises your salary. Moreover, you completed your Cisco 300-730 exam confirms that you possess advanced skills and knowledge.
Top Preparation Resources for Thorough Cisco 300-730 SVPN Exam Preparation
There are plenty of preparation resources available for this exam, and identifying the most reliable and updated ones can be a real challenge for the candidates. So, please don't waste time and check them out! Below are listed the most valuable resources for this exam to save you the trouble of searching for them on your own.
1. Official Cisco Resources
The first and the only way to prepare for any certification exam is to explore the official vendor's website and resources. Here, you can enroll in an instructor-led training course that is available all around the world. If you prefer to prepare at your convenience, you should enroll in an online self-paced course. Understanding that practice skills are vital for any applicant, you can own them by doing labs. And one more option you can find on the Cisco website is online communities that you can join and interact with the applicants who are also studying for the same exam. It will make learning much simpler for you.
2. Cisco Study Guide
To know the exam objectives, the Ciscopress store is the best resource to check. Several books and study guides are available for you to buy here. Being registered on this website, you can get the latest deals to use while purchasing and would save your money. Simply hit the website and shop by the required certification exam.
3. Cisco 300-730 SVPN Practice Test
To deal with Cisco 300-730 exam easily, it is advisable to take various practice tests. These will make you conversant with methods for going about questions and test your skills in multiple topics included in the exam. With these at your help, you will successfully cover all exam topics, thus bettering your skills in various switching aspects. NWExam.com is one of the best websites offering the best practice test.
Cisco 300-730 SVPN Exam Pass Tips
Among tips that both professionals and applicants have successfully taken the exam to recommend are:
To have a solid grasp of the exam topics, make sure that you utterly cover the coursework without skipping any area. This assures a solid foundation in the class, thus a more carefree time performing the Cisco 300-730 practice tests.

Perform as many practice tests to become familiar with the skills needed in answering the exam. Practice tests also help review where you have not thoroughly grasped the topics, thus revising on specific topics. After noting the topics, you are weak in, go back to the coursework and brush up on the areas.

Practice in a virtual or real-life lab to practice various concepts you get from the theory.

Avoid last-minute rushes as you may miss various information that is important for passing the exam.

Participate in various platforms and join study groups, thus getting help in topics where you are stuck.
Summary
The future of the IT industry is bright. But so are the talent that's captivated by it. For competition in terms of CV, promotions, salary, and organizational perks, CCNP Security certification can be what makes all the difference. So take Cisco 300-730 SVPN exam with the help of official study resources and practice tests today and relish all the benefits!