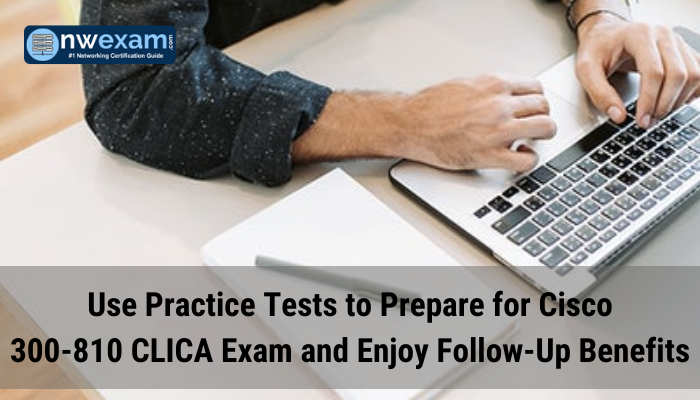 The CCNP Collaboration certification program prepares you for today's professional-level job roles in collaboration technologies. The Cisco certification gives the applicants a straight path to developing a successful career. This article will focus on the CCNP Collaboration concentration exam, 300-810 CLICA: Implementing Cisco Collaboration Applications.
The 300-810 CLICA exam confirms your knowledge and skills concerning collaboration applications, as well as SSO, Cisco Unified IM and Presence, Cisco Unity Connection, Cisco Unity Express, and application clients. After you pass the 300-810 CLICA exam, you receive the Cisco Certified Specialist – Collaboration Applications Implementation certification, and you fulfill the concentration exam requirement for the CCNP Collaboration certification.
Important Things to Know Before You Take Cisco 300-810 CLICA Exam
If you are thinking about taking Cisco 300-810 CLICA exam, you are first required to make sure that you have some information regarding the exam syllabus and its structure. Cisco 300-810 exam consists of around 55 to 65 questions. And you need to answer in 90 minutes. The exam cost is $300. And you need to make sure that you get a score of 750-850 on a scale of 1000.
Furthermore, there are four broad topics that make part of the Cisco 300-810 exam, and to score well; you will have to study all of these objective domains:
Single Sign-On (SSO) for Collaboration Applications

Cisco Unified IM and Presence

Cisco Unity Connection and Cisco Unity Express

Application Clients
Important Tips and Resources for 300-810 CLICA Exam
By taking the Cisco 300-075 exam, applicants should also recognize some essential tips that will help them utilize the right exam preparation strategy and get an excellent job in the end. Here, one of the first things you require is to go through all of the essential topics that make significant parts of the exam.
This is a crucial step that many people tend to overlook, but the fact is that once you are familiar with the topics covered in the exam, you can come to know your weak areas. This way, applicants become empowered to work on those areas and ultimately do well in the exam.
Another extremely important thing that applicants require to learn about Cisco 300-810 CLICA is to master all the exam topics. It means you should learn them thoroughly and persistently and so be able to retain and interpret those concepts in brief words.
Lastly, when you prepare for the exam, you should look for the proper study resources. After obtaining the best and most reliable study resources for the Cisco 300-810 exam, after having utterly studied with the official training course, "Implementing Cisco Collaboration Applications (CLICA) v1.0" and study guides, you should take practice tests from NWExam.com.
Significance of Cisco 300-810 CLICA Practice Test
Practice tests retain vital significance when you are studying for a CCNP Collaboration 300-810 CLICA exam. It is clarified that applicants don't know what questions they should expect in the exam and how they are about to deal with them.
With the help of a practice test, applicants will take a very precise idea of what kind of questions to expect in the exam and how they require to answer them. For the best outcomes, applicants are advised to try taking as many practice tests as possible. With each exam, you will only become better, which will improve your odds of obtaining a better score in the actual exam.
Benefits of Passing CCNP Collaboration Certification Exam
If you want to pass the 300-810 CLICA exam and eventually pave your way towards CCNP Collaboration certification, you must have considered the benefits. When you talk about certification from Cisco, there are always unique advantages attached, and in this case, there are loads of them. There are a lot of organizations that utilize Cisco technologies and products, and they want only the most skilled hands to work with them.
So if an IT organization perceives that you are a Cisco-certified professional, it will want to hire you without delay. CCNP Collaboration certification will also confer with your managers how serious you are about your career and what you are ready to do. With this Cisco certification added to your resume, you will receive a higher salary than your non-certified peers.
Conclusion
So, if you are sincere about the Cisco 300-810 CLICA exam, try to manage your time and prepare for the exam properly to get that coveted CCNP Collaboration certification. Before taking the exam, you must obtain all the relevant information and study resources as otherwise, it will be pretty tricky for you to perform well in the exam.