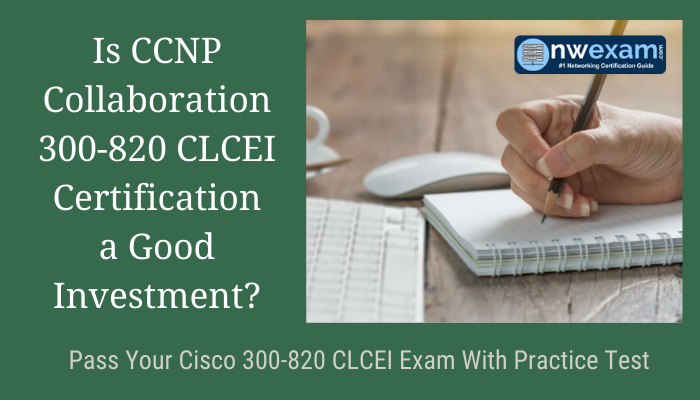 CCNP Collaboration certification validates experience and skills in dealing with the Unified Communications class technologies, using video conferencing, and organizing voice communication adequately. The Implementing Cisco Collaboration Cloud and Edge Solutions: 300-820 CLCEI exam evaluates an applicant's understanding of collaboration cloud and edge solutions, expressway configurations, Cisco WebEx Teams hybrid, and emerging technologies.
Cisco 300-820 CLCEI Exam Details
Exam Name: Implementing Cisco Collaboration Cloud and Edge Solutions

Exam Code: 300-820 CLCEI

Number of Questions: 55-65

Exam Duration: 90 minutes

Exam Format: Multiple Choice

Validity: 3 Years

Exam Fee: $300

Exam Language: English
Prerequisites
There are no formal requirements to opt for Cisco 300-820 CLCEI certification exam. Still, it is recommended that you make yourself familiar with the exam topics before taking the exam. People wishing to take the exam are expected to opt for any CCNP Collaboration certification exam should have three to five years of experience executing and maintaining collaboration solutions.
Some Handy Preparation Tips for CCNP Collaboration 300-820 CLCEI Exam
1. Understand Cisco 300-820 CLCEI Exam Topics Thoroughly
Without understanding Cisco 300-820 CLCEI exam topics, you may be studying irrelevant content that might not be questioned during the exam. You should ensure that you get the syllabus from the Cisco official website to determine that you learn the expected topics. Keep in mind that all the topics during exam preparation don't leave out some essential details.
2. Learn Exam Topics One by One
You don't need to study in a hurry. Just take a topic one at a time and go through the topics thoroughly. From there, switch to another topic to best perform at the actual exam. Don't study from only one book and try to broaden your knowledge as much as you can, concerning different resources and sites.
3. Avail Top Study Resources
The best study resources for passing Cisco 300-820 exam are Cisco's official training course and study guide, but not enough. You can engage yourself in online study groups and solve every doubt concerning the certification there. You can also go through Cisco certification articles and blogs readily available to stay updated about recent developments.
4. Practice Your Skills with Hands-On Labs
Improve your technical skill with Cisco's Virtual labs. Ideally, you should not just rely on plain reading; there's a requirement for you to practice your knowledge into action.
5. Cisco 300-820 CLCEI Practice Test
If you are determined to pass your Cisco 300-820 CLCEI exam on the first try and with the best possible result, there is no better option for you than Cisco 300-820 CLCEI practice test. Practice tests can help you to learn all about the exam structure and the type of questions. They will also help you perceive whether you are entirely prepared for your exam and point out the weak topics you need to work on.
Benefits of Passing CCNP Collaboration 300-820 CLCEI Exam
We put an awful lot of determination, commitment, self-discipline, and hard work into passing the Cisco 300-820 CLCEI exam because they will carry great benefits to our career. Moreover, Cisco certifications also convey many benefits to your organization. The below section will enlighten you with various benefits that you and your employer will encounter upon certifications. Breathe easy, relax and let's dig into the top benefits of passing the CCNP Collaboration 300-820 CLCEI certification exam.
1. Greater Opportunities
Competition for IT jobs is steadfast, and certifications play a vital role during the hiring process. Hiring managers are looking for professionals who have specialized in their areas of expertise. Passing the CCNP Collaboration certification will grant you more probabilities of getting hired than your ordinary peers.
2. Job Security
In a quickly growing environment, organizations are often looking for cost-cutting ways. Organizations would like to retain professionals who can carry out various tasks rather than hire many professionals who long perform a single charge. Passing Cisco 300-820 CLCEIA certification exam confirms that you can do several activities and solve complex tasks, and you are an aspiring person aiming to advance your skills and expertise. Hence, it aids you and your organization.
3. Promotions
If you need to scale up your career ladder quickly and faster, you must learn advanced technologies that the world is adopting. Earning a CCNP Collaboration certification is a way of updating your knowledge to satisfy the industry requirements. The average annual salary of CCNP Collaboration certified professionals is about $89,124 per year. Your employer will promote you to higher positions with increased pay and other perks because you hold the skills to work in such positions.
The job profiles you can apply for varies from Systems Administrator and Consulting Engineer to Infrastructure Engineer and Senior Engineer. Hence, certifications grant you an opportunity for promotions in your organization.
4. Networking Opportunities
Once you achieve a CCNP Collaboration certification, you will have the advantage of joining a unique group of certified and skilled professionals. This group will help you get answers to some of the issues you will confront in your career. You will also have a prospect to give solutions to the challenging scenarios which your colleagues have faced. Furthermore, this group of Cisco certified professionals can help you acquire the specific technical knowledge required in your career.
5. Enhanced Credibility
Earning a certification from internationally renowned vendors will give immediate professional credibility. Who will question the credibility that Cisco confirms? Having achieved one or more certificates from Cisco proves your devotion and commitment to professional advancement.
6. Latest Technologies
Information Technology is a field that is very vibrant across the globe. Every day, there is an innovation that intends to resolve daily life issues. Earning CCNP Collaboration certification confirms that you have a fair insight into that most advanced technology. Furthermore, it proves that you can move its system from the old technology to contemporary technology.
7. Meets Organizational Requirements
One way of guaranteeing that the IT staff in your organization have the essential skills and knowledge is by certifications and training. Cisco certified professionals are more skilled and able to resolve IT problems in a more excellent way. Accordingly, CCNP Collaboration and other Cisco certifications deliver the IT staff meet all the requirements that the company demands to perform its everyday tasks.
Conclusion
CCNP Collaboration certifications indeed open many doors for IT professionals. Why not go for it today and remain relevant in the industry? You will enjoy several benefits once you pass Cisco 300-820 exam with the concentrate certificate exam - 350-801 CLCOR and get the most sought-after CCNP Collaboration certification.