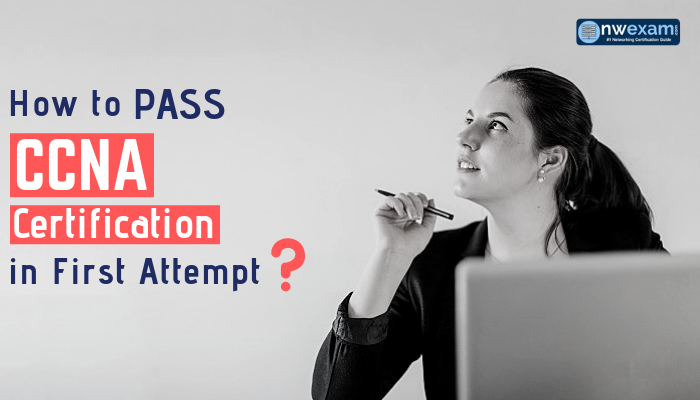 CCNA certification is the first and basic requirement for working as a network professional in most organizations. The 90 Minutes CCNA certification exam consists of 50-60 questions and costs USD 325.
According to the discussion forums and online surveys, the following are the main reasons for failure in CCNA certification exam in first attempt and the careful measures you can take to avoid them.
Right Study Material
A lot of newbies prefer to rely on DUMPS available on the internet. They are full of misleading information and also contains outdated Exam material.
All the publications by Cisco press are no doubt the most authentic resources and should be the first choice for the Cisco certification preparation. You require not only to pass the exam but to master the overall content to be successful and confident in your professional career. So make your choice wisely.
Split the CCNA Exam
Get the Benefit of Modern Technology to Test Your Readiness
The most overlooked and the most prominent step before attempting for the CCNA Certification exam is to test for availability.
The best things about these above-mentioned Practice tests are that they help you correctly monitor your mistakes, weak areas and help you fill all the gaps in your preparation.
Why Choose nwexam.com for CCNA Preparation?
Scenario-Based Questions for CCNA practice test.

Online Cisco CCENT Certification Practice Exam to be completed in the stipulated Time Limit.

Multiple Choice Questions with shuffled answer options for testing exam environment.

Free Updates with latest CCNA certification exam questions.

Unlimited attempts Practice Access for 2 Months.

Personalized Result Book to track your CCNA Exam Preparation.

Result History with attended questions and correct answers.

Lowest price with 100% Money Back Guarantee.

You can check the Live Testimonials given by our valuable candidates across the world.
Study with a Job or Internship
There is a Chinese proverb "One foot cannot stand on two boats." Generally, fresh graduates/college pass outs are extremely enthusiasts and motivated to get a job and perform high in their first job. The demanding nature of expert life does not enable them to study properly.
If you think you can work and study together and get prepared for the CCNA Certification exam, higher chances are both tasks will suffer badly.
It is highly recommended that you take leaves for dedicated preparation for the CCNA certification exam because that's what professionals do for more excellent certifications.
Planned vs. Unscheduled Study
Some students do not schedule their study at all. Pick up the book and study whenever they feel like methodology is improper for the preparation of any professional certification.
There are many methodologies for planned studies. All of them summarizes on the systematic and scheduled study along with various revisions. e.g., objectives, Define milestones, and daily tasks and obtain them effectively along with constant revisions.
GPA System vs. Absolute Percentage
Students throughout in their study life are usually familiar with the GPA system or a very low clearing percentages requirements in some nations (33%, 40%, etc.). They rely upon their gut intuition more than their absolute surety to clear the CCNA certification exam which has a much higher absolute passing requirement of 85 percent.
Switch Interest or Stick to the Plan
The Newbie is found to switch their interests multiple times due to lack of confidence and fear of loss of money before they attempt the exam. This causes vital breaks in their study pattern.
You should believe in yourself. Understand that hopping around in different paths will not lead you anywhere. You were born to win, but to be a winner you must adhere to the plan. If you have the plan to become a network professional, do not get fascinated by any other career options. Every path has its pros and cons. It is only you who make yourself stand out in any critical field.
Once you understand that fact, you will be less likely to change your mind repeatedly, and your dedication and motivation will be increased to accomplish anything.
Confidence vs. Arrogance
There is a saying There is no greater danger than underestimating your opponent. Cisco certifications usually are comprehensive and deep. They are unlike most of the expert certifications. If you are honest with yourself and have true faith in your preparation, then there is no harm to appear in the exam. But if you are taking cisco certifications lightly, think again. Every failure attempt costs the candidate 300 USD approximately and a bundle of demotivation and frustration to appear again.