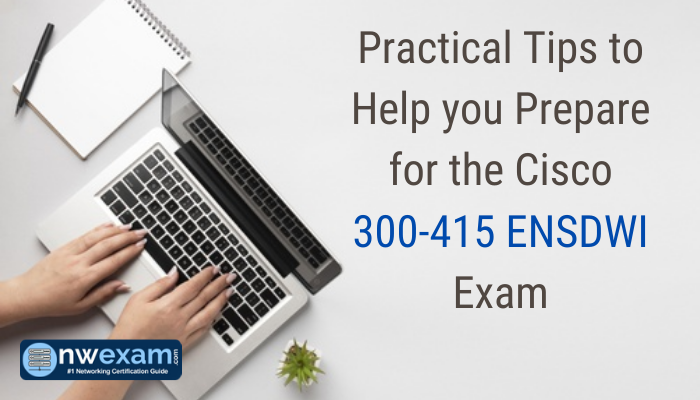 Cisco 300-415 ENSDWI one of the qualifying exams to obtain the CCNP Enterprise certification. The applicants who pass this CCNP Enterprise concentration exam will also earn the Cisco Certified Specialist – Enterprise SD-WAN Implementation certification. This indicates that they achieve an additional badge while earning their CCNP.
Why Is CCNP Enterprise Certification Important?
Software and networking have become ever more interconnected every day. Technology advances facilitate new applications and businesses that connect everything – people, devices, machines, and applications. With intent-based networking, organizations can capitalize on automation to measure and secure their networking infrastructure. To take advantage of these opportunities, modern networking professionals require a broader range of skills and a more profound focus in strategic technology areas. The CCNP Enterprise certification program provides you precisely that knowledge and skills.
Prerequisite
No formal certification is needed to appear in the CCNP enterprise exam. You should have prepared for exam topics before appearing in this exam.

It is recommended that you should have 3-5 years of working experience in implementing enterprise networking solutions before appearing in this exam.
Cisco 300-415 ENSDWI Exam Preparation
If you have made up your mind to sit for the Cisco 300-415 ENSDWI exam, the next step is to think about how to prepare for it to get a flying score. Preparation for exam Cisco 300-415 requires you to know specific things before you start. One of the most significant of them involves studying resources that will add to effective exam prep.
The selection of resources you use for exam preparation is dependent on what you think works best for you in understanding the exam objectives. For some exam applicants, Cisco 300-415 study guide works best. For others, enrolling in a training course will be productive. Another revision method that most candidates prefer using in their test prep is practicing with the practice test. Combining two or three of these will give you even greater results!
What study resources can you use to get prepared to pass your exam and achieve the expected passing score? Below are some resources to use:
Official Cisco training course,

Cisco 300-415 study guide

Cisco 300-415 practice test
Making good use of these prep resources for the exam will assure you meet the required inception for earning the CCNP Enterprise certification. You need to stay focused and study with commitment. Also, keep in mind that taking handwritten notes will be helpful in revision. Note down important concepts and whatever you find difficulty remembering easily. It's more convenient to recall later what you've written down on paper. But which is more beneficial — is a lot of practice, so let's find out how exam dumps can help you.
How Can Practice Tests Assist You to Pass Cisco 300-415 ENSDWI Exam?
Practice tests make you familiar with the exam structure and environment. This will allow you to have that needed confidence while preparing and during the actual Cisco 300-415 exam. Answering many practice questions improves your understanding to promote better exam performance. Practice tests help you assess your knowledge about a specific syllabus topic. It also enables you to find out your weak areas in the exam topics. By taking practice tests, you understand more about it, and you acquire mastery of the exam syllabus topics.
To make your Cisco 300-415 ENSDW exam preparation process easier, you need to focus on the following steps:
Come up with a comprehensive study strategy and follow your learning style;

Set Up a Realistic Exam Plan

Know Your Best Preparation Routine and Stick with It

Make use of guide books;

Focus on the exam objectives;

Watch video lectures;

Write notes;

Revise actively

Join online forums;

Take practice tests;

Take regular breaks;

Rest and hydrate well during studying and before the exam!

Plan the day of exam
Conclusion
Getting ready for a difficult exam like Cisco 300-415 is not a child's play, but it certainly is crucial. Achieving the CCNP Enterprise certification you've desired from the start is possible. But there are conditions to reaching here. You have to push yourself through hard work and dedication. Adopt proper use of revision materials that have been proven to be helpful. These materials include Cisco 300-415 study guide, training courses, and Cisco practice test.
Accomplishing your professional goals can only be possible when you are aware of what you're doing. Show this by achieving a great exam score and earning your certification.