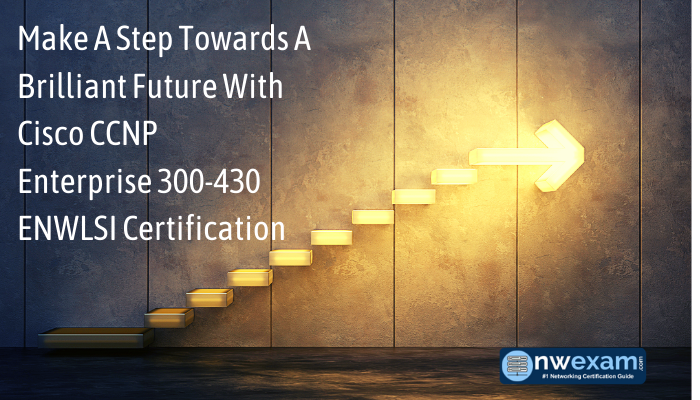 If you are in the dilemma of making a major decision to advance your career forward but still have persistent doubts, be certain that you are not all alone. You could be thinking whether you are spending your time opting for the CCNP Enterprise 300-430 ENWLSI or not. Stop thinking anything else, as this article is created for you. Here, we will clear all your doubts and explore the career advancement this exam fetches. Let's begin with the exam details first.
Cisco 300-430 is a concentration exam that is a requirement for earning the CCNP Enterprise certification. It's one of two exams that you should crack if you want to obtain this professional-level certificate. The second exam is the Cisco 350-401 (core). Passing the 300-430 exam can also entail the Cisco Certified Specialist – Enterprise Wireless Implementation certification. So, as you can notice, this exam may be worthwhile for your further success in the IT industry.
Cisco 300-430 ENWLSI comprises of approximately 55-65 questions and lasts 90 minutes. It can be taken in English or Japanese. This certification exam confirms the candidates' knowledge and skills in wireless network implementation, comprising security for device hardening, advanced location services, client connectivity, multicast, FlexConnect, and QoS. These skills are rooted in certain topics included in the exam. Before taking this exam, it is suggested that the candidates understand each part of these objectives. So, let's take a look at these important domains.
Cisco 300-430 Exam Objectives:
FlexConnect (15%)

QoS on a Wireless Network (10%)

Multicast (10%)

Location Services (10%)

Advanced Location Services (10%)

Security for Wireless Client Connectivity (20%)

Monitoring (15%)

Device Hardening (10%)
A step by step Study Guide to Crack the Cisco 300-430 ENWLSI Exam
While preparing for any Cisco certification exam, a solid preparation guide always needed. Without a doubt, the urge to pass the exam with a flying score comes inherently. Thus, we've created a step-by-step preparation guide so that you can be quite easy. So, let's dive into the preparatory steps.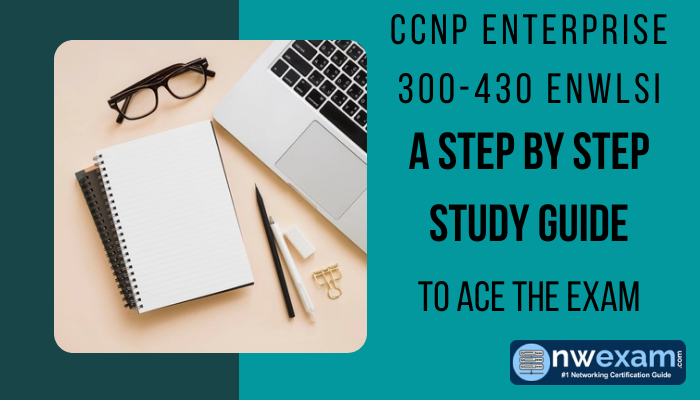 Begin preparing with your absolute preparation guide for Cisco 300-430 ENWLSI and expert learning resources,
1. Visit Official Website
Applicants require to understand that Cisco official website is the most authentic site for the Cisco 300-430 ENWLSI exam for apparent grounds. Thus, visiting the official certification page should be your first step. You can get the complete information about the 300-430 ENWLSI exam on the official webpage. So, keeping this thought in mind, click here to visit the site once.
2. Refer to the 300-430 ENWLSI Exam objectives
The next step in your preparatory guide is to refer to the exam objectives. Because every exam has diverse requirements, accordingly, different exam objectives. Therefore, we firmly recommend referring to CCNP Enterprise 300-430 ENWLSI exam objectives. To keep this impulse, make sure to understand all the exam objectives. This would help answer all your questions- what topics are important, which experience would be beneficial, etc. This can be your first step to well-paid employment, so don't forget to refer to exam objectives. Avail All Learning Resources Available
The third step in the preparation guide is obtaining all learning resources for the Cisco 300-430 ENWLSI exam. Hence, lucky for you, Cisco provides both.
Self-Study E-Learning along with Instructor-Led Training. Because of this, applicants can easily understand all the concepts and thoroughly understand the course outline. So, make sure you take help from Cisco's official resources.
3. Make Books Your Best Friend
Despite all the learning resources available on the world wide web. Candidates can also study and learn from books additionally. As we all perceive, books are an excellent source of getting knowledge. Hence, we suggest you study books also. Though, there are so many books available in the market about the Cisco 300-430 certification exam. So, make sure to depend on books which are equipping you with true knowledge.
4. Utilize Practice Tests
This can be a vital part that can help you to prepare in a better way for the exam. Needless to say, practice tests are crucial as by evaluating yourself with these exams, you will identify your weak and strong areas. We all know time plays an important role in exam preparation. So, by taking practice tests, you will be able to enhance your test-taking skills to save a lot of time. Furthermore, the best way to start taking practice tests is after completing all the exam objectives, as this will work as a revision for you. So, make a point to find the best platform to attempt practice tests.
5. Study Group and Online Forums
One thing that will be helpful in the exam preparation time is to actively participate in study groups, and online forums as these will help you stay connected with the other people who are on the same track as yours. Moreover, you can always ask a question related to the topic you're having difficulty with. So, it's all up to you. By doing so, you will get the best possible answer to your query.
How Does Cisco 300-430 ENWLSI Help Your Career?
The benefits below show how the Cisco 300-430 exam matters for your career advancement. Go through and assimilate them.
You Become Part of an Elite Professional Community
After acing your CCNP Enterprise exam, you'll have admission to associate with other professionals along with you will be prone to brilliant learning opportunities, which includes the education and training conferences, mentorship programs, databases, and create opportunities to network and speed up your career. You'll network both with those who have beat their exams and with that just beginning. Cisco CCNP Enterprise 300-430 ENWLSI is also an excellent way for you to form robust networks with skilled professionals in networking!
You Satisfy Your Desire for Knowledge
Nothing gratifies hiring managers more than an employee who is always enhancing his/her skills. A persistent learner acquires respect and appreciation to the same extent. When opportunities emerge for career development, you're the first choice for promotions. So, keep learning for the Cisco 300-430 and obtain favor with your management.
Cisco CCNP Enterprise 300-430 ENWLSI Exam Improves Your Career Growth Opportunities
By passing the Cisco 300-430 ENWLSI exam, you excel than that of your peers not having a certificate. It's not a question that within a little time, you're ought to land a promotion or a new job vacancy. Obtaining the renowned certification makes you more aligned with prevalent job demands and unlocks doors to more benefits and an alluring salary. This gives you the financial sustainability to explore other exams and add more certifications to your resume list.
Cisco 300-430 Sets You Apart From Competition
Passing the Cisco 300-430 exam elevates you to a top-level. There is no way you will be the same as those who have not done this exam. Whenever an opportunity comes up, that exam will set you apart from the competition. It will not matter how tough the competition will be; your certification will appropriately represent you and make you ahead of the curve.
Conclusion
Passing the CCNP Enterprise 300-430 Certification leads your career to a distinct and exciting track. This is a path that comes with the advantages we've noted. Applicants pursuing this exam and its associated CCNP Enterprise certification can easily get qualified at their first try with the use of authentic and updated study materials. Register for the exam today, and very soon, you will notice the value it adds to your career!!