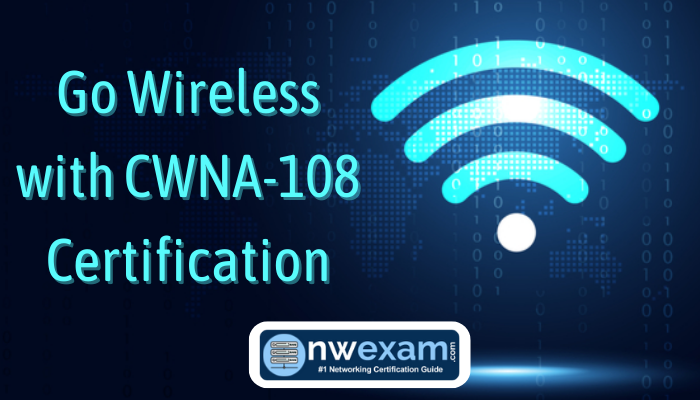 Though networking of all types stays a white-hot IT affair and technology area, nothing is more alluring than wireless technologies for everything. From local area networking with 802.11ad to the prevalent proliferation and adoption of fourth-generation (4G) wireless broad area networking technologies, like LTE (with 5G now also starting to debut.) The CWNA certification is the foundation-level enterprise Wi-Fi certification for the CWNP Program. Earning it puts your wireless career on a solid foundation, assuring you have the skills to survey, install, and manage enterprise Wi-Fi networks efficiently. You need to pass one exam, CWNA-108, to receive the CWNA certification.
Why Should You Earn a CWNA Certification?
Earning a CWNA certification can demonstrate your dedication to your IT career and confirm that you have contemporary skills and understanding in your field. CWNA certification confirms your persistent interest in learning and professional growth. You can add your certifications on your CV and cover letter to impress influence managers.
Earning CWNA certification is one of the best ways to validate skills in network security. A certification adds excellent value if you are beginning a career in wireless networking or forming on existing experience and skills. They hold excellent technical knowledge and demonstrate to possible employers that you have the affirmed skills to get the tasks accomplished.
CWNA-108 Exam Details
This exam gauges the applicant's skill in understanding the basics of RF behavior and explaining the features and operations of WLAN components as they use WLAN administration. Also tested are the necessary skills to install, configure, and troubleshoot WLAN hardware peripherals and protocols in small business and enterprise deployments.
Exam Duration: 90 mins

Number of Questions: 60 Questions

Exam Format: Multiple Choice and Multi-Response Questions

Pass Score: 70% and above

Exam Fee: $249
Topics Covered in CWNP CWNA-108 Certification Exam
Radio Frequency (RF) Technologies

WLAN Regulations and Standards

WLAN Protocols and Devices

WLAN Network Architecture and Design Concepts

WLAN Network Security

RF Validation

WLAN Troubleshooting
Top Tips To Pass CWNP CWNA-108 Certification Exam
Whether you are a fresher or have been thinking about earning your CWNA certification by passing the CWNA-108 exam for a while, here are tips to help you prepare for your certification exam:
1. Explore the Official Certification Page
Just visit the official certification page at the CWNP website to get all the essential information about the exam, like exam patterns, study resources, white papers, FAQs, and much more. This information is the first step to starting your exam preparation.
2. Make a Solid Study Plan
A study plan will help you make an effective schedule to make the most of your available time. More significantly, you will come to know which concepts and CWNA syllabus topics to concentrate more on and how. Read CWNA Book
Choosing the appropriate book is crucial for preparing for the CWNA-108 exam. So, learning from some good CWNA books is advised to crack the CWNP Wireless Network Administrator certification exam. The first book you should read over is the CWNA-108 Official Study Guide, which you can purchase from the official website.
3. Read White Papers
It is a must to read the CWNA white papers while studying for the CWNA-108 certification. Reading a few important white papers will help you to get a good idea of the exam concepts. White papers will help you learn more about how enterprise Wi-Fi networks work. You can avail of white papers free of cost with a CWNA account.
4. Attempt CWNA Practice Test
The most significant way to prepare for the CWNP Wireless Network Administrator certification exam is by evaluating your knowledge with practice tests. It will help you pinpoint gaps in knowledge and helps create a study strategy.
You can also become familiar with the CWNA exam questions and structure. It will help you perceive what you will study and give you a solid hold on preparation topics.
Try out some CWNA practice tests offered by NWEXAM.COM. Improve your score in practice and do well in the actual certification exam.
5. Engage in Online Communities
Any CWNP certification exam is a great experience, and the exam structure follows different topics covering a broad array of concepts. Consequently, it can leave you feeling conquered with excessive information for your mind to process in the allotted time limit.
6. Watch Youtube Videos
Many Youtube Channels provide content that includes explicit information and emphasizes on CWNA-108 exam. Engaging presentations comprise areas from the initial level to that of a reasonably advanced standard. The videos can be brief and valuable for understanding and learning intentions.
7. Stay Positive and Relaxed
The final tip for the CWNP Wireless Network Administrator exam would be to stay positive and relaxed. It's obvious to feel frightened while preparing for such an important exam; therefore, it's best to sit down and relax before beginning your preparation.
8. Register For the Exam
Don't think that you will pass or fail. Have faith in yourself. Register yourself today to become CWNP Wireless Network Administrator and give a new path to your career.
Conclusion
A CWNP Wireless Network Administrator certification will take a long way in your Wireless Networking career journey. The tips for the CWNA-108 exam discussed above will help you begin your prep journey and make you feel at ease about taking the certification exam.