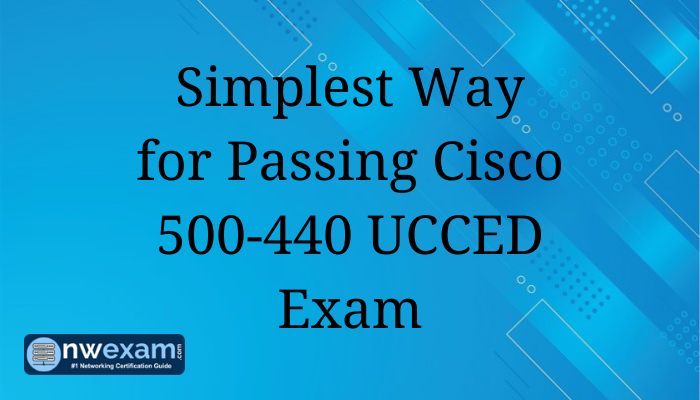 The 500-440 UCCED: Designing Cisco Unified Contact Center Enterprise examination is meant to evaluate an applicant's understanding of design considerations and guidelines for deploying Cisco Unified Contact Center Enterprise (Cisco Unified CCE) solutions. Cisco Unified CCE is part of the Cisco Unified Communications application suite, which presents intelligent call routing, network-to-desktop computer telephony integration (CTI), and multichannel contact management to contact center agents over an IP network.
Cisco 500-440 Exam Topics
The Cisco 500-440 exam focuses on testing candidates' practical knowledge of the following concepts.
Describe the Features and Functionality of the Cisco Unified CCE Solution

Identify the Design Considerations for Cisco Unified Communications Manager in a Cisco Unified CCE Solution

Identify the Network Design Considerations in a Cisco Unified CCE Solution

Identify the Network Design Considerations in a Cisco Unified CCE Solution

Describe the Sizing Process for Contact Center Resources and Cisco Unified CCE Components

Describe the Virtualization Environment for Contact Center Resources and Cisco Unified CCE Components
It is important that you learn these objectives and completely understand them before passing the Cisco 500-440-UCCED exam.
Top 7 Tips to Pass Cisco 500-440-UCCED Exam
Passing Cisco 500-440-UCCED exam is not a walk in the park; it requires thorough preparation and dedication to pass it with flying scores. Along with it, the exam equips its passers with unique practical skills and knowledge applied not only at the workplace but in various real-life situations.
Hence, become a proud Cisco 500-440 certified professional by following some of the below-mentioned proven tips and tricks!
1. Understand the Cisco 500-440-UCCED Exam Syllabus and Structure
The first step in any Cisco exam preparation you need to do is to become familiar with the exam syllabus and exam structure. By knowing the Cisco 500-440-UCCED exam details, you will know what kind of questions you should expect.
Most professionals jump into the preparation routine without knowing the course outline, etc., by eventually facing many problems in the real exam. The core objective behind this tip is to have a general idea of the whole exam to be prepared for potential mistakes.
2. Design Practical Study Plan
Creating a practical study plan is considered perhaps to be half of the exam preparation journey. Since Cisco 500-440 is a rigorous exam, it is vital to set up a detailed learning schedule and stick to every point, little by little.
3. Follow the Study Plan
So, create a daily plan, or set weekly targets. Make sure you be constant with your study plan. Try to manage your time so that you learn the topics planned for the day and have time to review the studied concepts.
4. Training Courses
If it is hard for you to combine work, study, and other responsibilities, then joining an online training course is the best option. Joining an online training course will help you have a definite understanding of the exam concepts in detail. Cisco offers training courses for 500-440 UCCED exam preparation.
5. Join In a Study Group
If you are having trouble exploring the exam content and get frustrated with the difficulty of exam questions, then it is the best way to actively participate in a relevant study group.
Online study groups offer a great way to progress in your exam preparation. The group members help each other solve questions and prepare for the exam by communicating with other group members, learning with greater concern, and getting stoke up with the energy needed to pass the exam.
6. Attempt Cisco 500-440 UCCED Practice Test
This is the essential step that you should never ignore when you are going to opt for the Cisco 500-440 UCCED exam. The practice test plays a very important role in assuring that you have all that it takes to do the Cisco 500-440 exam. This is because they are created according to the Cisco UCCED exam objectives that the exam wants you to be very well-versed in.
There are many websites where you can take practice tests for this Cisco exam. NWExam.com offers you the perfect opportunity to take up different full-length practice questions for Cisco 500-440 UCCED certification exam. It is vital to mention that they have been checked by the IT specialists in the industry, so you can be sure that you are working with trustworthy resources during your preparation.
7. Be Confident
Finally, like is the case with almost anything worth accomplishing, you will need patience and confidence to pass the Cisco 500-440 exam and earn the associated certification. Only with determination and persistence can you do the challenging climb, and clearly, this exam would be worthy attainment!
Conclusion
Cisco certifications are very sought-after in the IT field. They unlock doors to lucrative opportunities and empower IT professionals to ask for higher salaries, promotions, and other perks on their future jobs. So, it is highly recommended that all exam-takers should thoroughly prepare for the Cisco 500-440 UCCED exam with the practice test and give their best shot to pass the exam with a flying score!