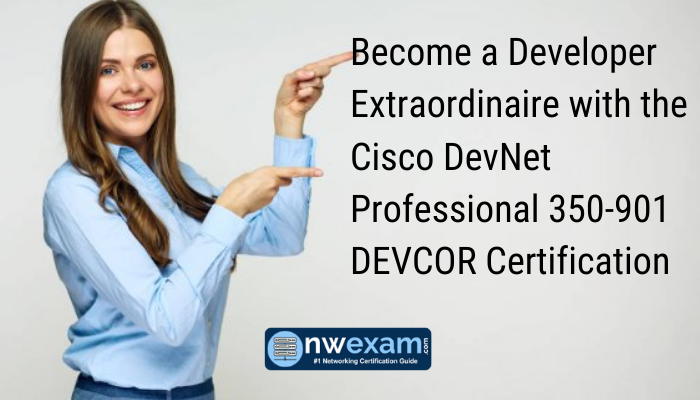 Cisco gives its professional-level certification in seven different routes with a single core examination and multiple concentration exams concentrating on different areas of Networking, Software Development, Application Design, Automation, and Programmability. Cisco DevNet certification track, comprising of 350-901 DEVCOR as its core exam and eight different concentration exams. This article will focus on core exam 350-901 DEVCOR: Developing Applications Using Cisco Core Platforms and APIs.
Reasons to Opt for the Cisco DevNet Professional 350-901 DEVCOR Exam
To prove ones' developing skills needed for becoming a software professional now, software developers, DevOps engineers, automation specialists, and other software professionals are taking Cisco DevNet 350-901 DEVCOR certification exam.
Passing Cisco 350-901 DEVCOR exam is sufficient to confirm your expertise in developing and managing applications created on Cisco platforms.

Other than this, passing Cisco 350-901 DEVCOR exam draws many benefits such as,

Passing the DEVCOR 350-901 certification equips you with the basic skills and a more intense emphasis on critical technology areas.

Both Software developers and Network Automation engineers could avail from passing this exam and qualify themselves for professional-level job positions in designing and writing applications that utilize Cisco platforms as a foundation.

Cisco Certified DevNet Professionals are taken as professionals forming the future of technology by commanding the art of writing code and creating applications with Cisco platforms.

Passing Cisco 350-901 exam gives you a Cisco Certified Specialist certification to link to your social media, so your accomplishments get recognized along the way.
Essential Information About Cisco DevNet, 350-901 DEVCOR Exam
Exam Code: 350-901

Time Duration: 120 minutes

Number of Questions: 90-110

Language: English

Certification-Level: Professional

Exam Cost: 400 USD

The Cisco 350-901 DEVCOR Certification is valid for two year
Cisco 350-901 DEVCOR Exam Syllabus Topics
Software Development and Design (20%)

Using APIs (20%)

Cisco Platforms (20%)

Application Deployment and Security (20%)

Infrastructure and Automation (20%)
Tips to Prepare and Pass Cisco DevNet Professional 350-901 DEVCOR Exam
Even though this isn't the first time you appear for exams, it's never possible to become accustomed to them. Each exam is imparted distinctly based on what it's aiming. This signifies it's possible to be filled with anxiety at the thought of taking an exam shortly. But with useful tips and tactics you can employ throughout your exam preparation, you need not be worried at all.
Go through these tips and assure you understand and practice them. By doing this, you're going to do yourself an excellent favor, which will result in good scores in your exam. So, which are these practical tips that you can use as you prepare and take your Cisco DevNet Professional 350-901 DEVCOR exam? Let's dig into it:
1. Planning Your Time Wisely
Before you schedule your exam, be sure there's ample time to cover exam topics in-between. This will give you enough time to go into the details of the topics if required. If you do not have enough time, there's a possibility you're going to overlook some topics. Moreover, this will lead to information burdening within a short time, which might conclude in you forgetting all you've studied. And this is going to be so depressing! Begin to study early to work through the essential steps without rushing yourself.
2. Keep the Exam Topics Within Your Reach
Before you even start your preparation, you ought to know the topics you're going to examine. The Cisco website provides the complete details of Cisco 350-901 DEVCOR exam topics and learning resources to get mastery on them. You need to check out the tested areas so that you can get relevant study materials.
3. Obtain the Appropriate Study Resources
Different study resources have been successfully tried and tested beforehand by exam applicants. It also means there's an assurance that if you employ these test study methods adequately, you will excel in the actual exam. Cisco promotes various study resources that incorporate training courses and hands-on practice labs, study guides, and practice tests.
4. Take Up Cisco 350-901 DEVCOR Practice Tests
If you'd like to get the assurance of performing well in your actual exam, make sure to practice many times with the exam practice test. NWExam.com is a trusted platform that offers practice tests for Cisco certification exam preparation. Performing practice tests will allow you to have an idea of the actual exam questions. Make sure you're taking practice tests only after you have studied the entire syllabus. Remember, the more you take practice tests, the better you're going to become. SO START TAKING PRACTICE TEST NOW!
5. Get Enough Sleep
As you prepare for Cisco 350-901 DEVCOR exam, make sure you get sufficient sleep each day. It's also vital for you to sleep well the night before taking the exam. This is to assure you stay attentive throughout the exam period, which will increase your odds of passing the assessment with an amazing score.
Conclusion
While studying for your Cisco DevNet Professional 350-901 DEVCOR exam, make sure to follow each piece of advice you get out there. Certainly, earning the Cisco certification isn't the most straightforward thing to do. But when you have the appropriate study resources right beside you, passing the exam would be easier. Perform practice tests as many times as possible with updated and trusted practice questions from NWExam.com, study guides, and from the training course. Make passing this exam your goal. Good luck as you get qualified to provide solutions in the ever-evolving IT world!