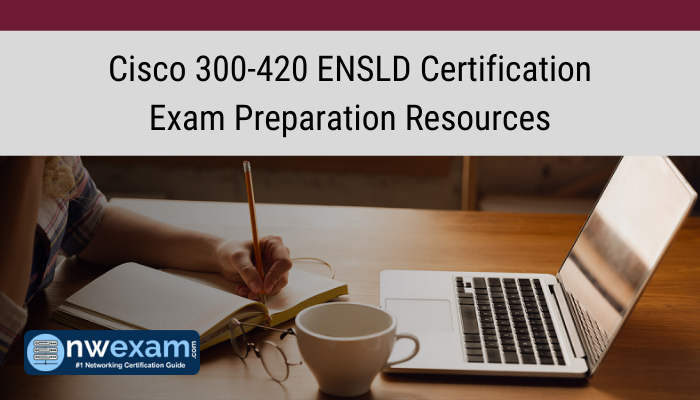 If IT innovations attracts you, specifically those made in the networking field, you must know about Cisco. Cisco has created routers and switchers along with other tools and services that are now utilized across the world. But did you know that this company also helps professionals be a part of this IT field or enhance their knowledge and skills? This is because of their certifications that equip you with the most sought-after skills and expertise and enable you to work with the latest technology all over the world. To get mastery over any of them, you have to pass some exams and, this article includes the 300-420 ENSLD exam that helps you achieve a new professional-level certification CCNP Enterprise.
An Overview of CCNP Enterprise Certification
The CCNP Enterprise certification confirms an applicant's knowledge and skills in implementing and troubleshooting Cisco enterprise's excellent routing and services. This Cisco certification is the best fit for those who yearn to be network engineers, network design engineers, and system administrators. It demands knowledge in technological areas like enterprise networking, network design, and routing and switching.
The Designing Cisco Enterprise Networks (300-420 ENSLD) exam is one out of two exams needed to earn the CCNP Enterprise certification. The first is the core exam (350-401 ENCOR), and then the applicant should choose a concentration exam from the six options, one of which is the 300-420 ENSLD exam. This Cisco exam is also needed to obtain the Cisco Certified Specialist — Enterprise Design certification.
Cisco 300-420 ENSLD Exam Information
This Cisco exam comprises 55-65 questions that need to be finished in a duration of 90 minutes. The exam is offered in English and Japanese languages. It confirms the applicant's knowledge of enterprise design, particularly advanced addressing and routing solutions, WAN, advanced enterprise campus networks, and security services. The main topics covered in the exam are listed below:
Advanced addressing as well as routing solutions;

Advanced campus networks for enterprise;

WAN targeting enterprise networks;

Network-based services;

Automation.
Study Resources to Get Flying Score in Cisco 300-420 ENSLD Exam
Different study resources required to pass Cisco 300-420 ENSLD exam have been made readily available with a simple google search. Such study resources include:
1. Cisco 300-420 ENSLD Practice Exam
Practice tests help the candidates perceive the concepts evaluated. There are many websites that offer applicants an updated and reliable Cisco 300-420 ENSLD practice exam.
Practice test will show you the real exam structure and environment. The importance of a practice test goes well beyond answering sample questions. Practice tests provide in-depth feedback about the strengths and weaknesses in the skills needed to work upon.
2. Study Guides And Book
There are many study guides and books available at online stores such as Cisco Press and Amazon from which applicants can buy these materials either in the form of hard or soft copies. Books allow applicants to do self-paced and thorough learning of the various topics assessed in the exam.
3. Training Courses
Cisco provides training courses to enroll to obtain the necessary skills and knowledge essential to pass the 300-420 exam. The training courses take five days and are provided in the form of:
A virtual instructor-led training course that includes web-based instruction with hands-on lab practice sessions.

Live-classroom instructor-led training also involves hands-on lab sessions and should be attended offline.

The E-learning course is offered to take care of students worldwide and is equivalent to 5 days of live classroom sessions.
4. Videos and Webinars
Cisco's website contains a collection of live webinars recorded from the Cisco learning network, which candidates can use to understand the 300-420 exam concepts. There are also training videos prepared by specialists, which can also be received from the Cisco official website and YouTube. These resources help applicants study at their convenience and can be obtained by applicants irrespective of where they are.
5. Online Communities and Study Groups
There is a community on Cisco's official website where candidates can participate in discussions and exchange study resources and experiences. Applicants can also create study groups to study difficult topics together to master them.
Conclusion
The Cisco 300-420 exam is the last exam needed to obtain the CCNP Enterprise certification. Earning this certification is an outstanding way for IT professionals to promote their networking skills and be competent in the workplace. The Cisco certification holder becomes the first choice of potential employers and experiences increased pay scales. To gain all these benefits and pass the 300-420 exam easily, use reliable practice tests. Begin your preparation today and become a sought-after professional soon!