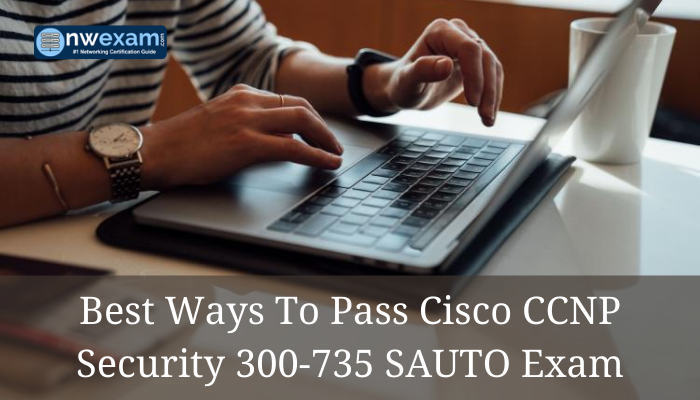 CCNP Security certification is considered professional-level Cisco certification, which suggests it was designed for security professionals with three to five years of experience with Cisco security. To receive your CCNP Security Certification, you must pass two exams: a core exam and a concentration exam of your choice. This article is centered on the CCNP Security concentration exam 300-735 SAUTO: Automating and Programming Cisco Security Solutions.
Cisco 300-735 SAUTO Exam Details
Cisco 300-735 SAUTO is a 90-minute exam that falls into the category of the CCNP Security Certification. This exam assesses an applicant's understanding of implementing Security automated solutions, along with programming concepts, RESTful APIs, data models, protocols, firewalls, web, DNS, cloud, and email security, and ISE. The available languages of the Cisco 300-735 exam are only two – English and Japanese. And the exam cost is $300.
Why Should You Pass Cisco 300-735 SAUTO Exam and Earn CCNP Security Certification?
Below are the few reasong to pass the Cisco 300-735 SAUTO Exam and achieve CCNP Security certification.
1. Job Opportunities
After getting CCNP Security certification from Cisco, one can receive different job profiles. The most common job profiles for a CCNP Security certified professional is a broad range of IT Professional, Network administrators, Network Engineer, Systems Engineer, Security Engineer, Consulting systems engineer, Network designers, Technical solutions architects, Network managers. CCNP Security certified professionals have high job availability than non-certified peers.
2. Greater Salary
The possibility to get high salary increases and can availability excellent job opportunities. By passing Cisco 300-735 SAUTO exam, you become an expert in that field. As an expert, you can ask for a greater salary. This brings you closer to accomplishing your financial goals.
3. Skills Recognition
Cisco CCNP Security certification demonstrates that you have achieved advanced knowledge and skills in networking security. Cisco certification indicates that one has obtained the best knowledge and skills. Your life evolves around technology. If you want to move forward in your career, then it is best to stay updated with the new technology, and that is precisely what Cisco CCNP Security certification does.
4. Job Winning Resume
Resume is the only thing that talks about your qualification, skills, work experience, the understanding that one has accomplished in their life. Once your resume is computed with the Cisco Security certification, you will be qualified to work in leading organizations. The organizations believe that such professionals will be a valuable asset to the organization and lead the organization to the top.
5. Passing Cisco 300-735 SAUTO Exam Boost Confidence
Cisco CCNP Security certification boosts the self-confidence to apply for the job they dream of being a part of. The skills and expertise that have been acquired through certifications build the confidence to work with the latest technology.
6. Advance Professional Growth in Your Career
When it comes to getting a job in IT or networking security, earning Cisco CCNP Security certification puts you at the top of the list for promotion or career advancements. Cisco certified professionals will obtain better job opportunities while switching the company. They will be eligible for positions that have high growth in the future, as IT is a changing world, and their skills will need the update.
Tips to Get Flying Score in CCNP Security 300-735 SAUTO Exam
Here are the best tips for Cisco 300-735 SAUTO certification exam preparation.
1. Take Enough Time to Understand Exam Objectives
The first thing that you should do before studying for an exam is to understand the exam syllabus topics. Knowing the exam topics will help you to prepare well thoroughly.
2. Make the Perfect Study Plan
Cisco certification exams like these are quite intimidating, but of course, achievable. The best way to study all the Cisco SAUTO exam topics is by setting up the study schedule. In it, assure that each topic is covered, along with its corresponding time and manner of fulfillment. Following your personalized study schedule will ensure learning all objectives a week before the scheduled exam. So on the exam day, you won't be stressed and be lost in the actual exam. Additionally, in creating your study plan, you can get help from Cisco's official study resources.
3. Enroll in a Training Course
For the benefit of every exam taker, Cisco offers a series of self-paced e-courses easy to be utilized from anywhere. Enrolling in a training course will help you understand concepts better. Communication with an experienced instructor will help you get some tricks on how to deal with the exam questions. Moreover, this provides you a possibility to ask questions and solve them from the instructor.
4. Obtain Hands-On Experience
Knowledge is ineffective if you don't grasp how to put it into practice. So, try to allot an ample amount of time to hands-on labs. This type of learning will be helpful not just for the Cisco 300-735 exam but also for your professional jobs in the future.
5. Assess Your Learning with Cisco 300-735 SAUTO Practice Test
To assess how well you have understood the test topics and how far you have included the syllabus, take Cisco 300-735 SAUTO practice tests. Being prepared by the professionals, the practice tests help you to get an insight into the real exam, thereby helping you to study well for the exam. Interestingly, you can come across innumerable options for the Cisco practice test online. Though, all the practice tests available online are not reliable. Therefore, it is crucial to consider the worthiness of the site.
Conclusion
According to IT organizations, it is vital to employ certified employees for the better growth of an organization. Cisco certified professionals prove that they hold the right skills with the proper training and dedication towards every prospect of the job. Earning CCNP Security certification is not an easy task, still possible; if the applicant is hard-working, then nothing can come in between their success. Thus, sitting for the Cisco 300-735 certification exam will pave the way towards the CCNP Security certification. Consider the benefits you'll get and begin your preparation process for the exam. Good Luck!!