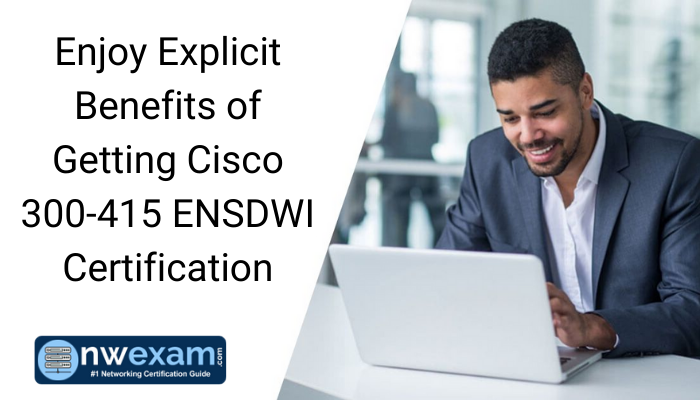 The Cisco Certified Specialist - Enterprise SD-WAN Implementation is a professional-level certification that confirms an individual's skill to implement, design, and manage SD-WAN solutions. Particularly, this Cisco certification is meant for network engineers holding experience working with SD-WAN, and earning it offers many perks to individuals. So, if you have been unsure about passing the corresponding 300-415 ENSDWI exam to receive this Cisco certification, read on the benefits listed below.
Benefits of Cisco 300-415 ENSDWI Certification
1. Draw Nearer to Earning CCNP Enterprise
The Cisco 300-415 certification exam is one of six concentration exams needed to achieve the Cisco Certified Network Professional (CCNP) Enterprise validation. By passing this exam and the core CCNP Enterprise 350-401 exam, professionals can achieve CCNP Enterprise certification, and this is a sought-after network certification among networking professionals.
2. Achieve Internationally Acknowledged Certification
The Cisco Certified Specialist - Enterprise SD-WAN Implementation certification is a renowned certification awarded by one of the world's most renowned networking organizations and certification vendors- Cisco. Cisco certifications convey significant value in the IT industry and are accepted by organizations all across the globe. Moreover, after earning the certification, certified professionals are permitted to utilize the official Cisco logo for acknowledgment.
3. Acquire Knowledge of Implementing SD-WAN Solutions
The Cisco 300-415 ENSDWI certification exam enables professionals to prove their skills and acquire new skills. On the whole, the final exam evaluates an individual's understanding of the critical areas mentioned below:
SD-WAN architecture, components, and capabilities;

Controller deployment and certificate configuration;

WAN edge router deployment;

Configuration of policies;

Quality of service and security;

Multicast

Management and operations, including authentication, monitoring, and reporting.
4. Maximize Your Income
Are you unhappy with your current earnings? Cisco certifications have been confirmed to give salary hikes for certified professionals. Cisco Certified specialists are given much higher salaries than their non-certified peers because the certification vendor has strictly certified their skills. To demonstrate this, the CCNP Enterprise can make you as much as $97k yearly, as stated by Payscale.com.
5. Cisco 300-415 ENSDWI is a Key to Open Doors to Amazing New Opportunities
Cisco is the leading networking solutions provider globally, so passing the 300-415 exam will open up a door of excellent opportunities for professionals. Thus, they are offered preference for jobs because Cisco has authorized them to execute networking jobs. Moreover, they bear a greater chance of receiving promotions in their workplace. Additionally, the vendor gives plenty of learning pathways for professionals to advance and become specialists in their field of interest.
Preparation for Cisco 300-415 ENSDWI Exam
There are different ways to study for this Cisco certification exam. It comes down to what is most suitable for you. You can choose to do self-study or have a tutor who will help you answer all questions related to this exam. There are many study resources available online, as well as platforms where you can avail these study tools. Described are ways to get appropriate study materials and ought good preparation sources for Cisco 300-415 ENSDWI certification exam.
Self-Study: When self-study, you can get study materials by downloading or purchasing them from the Cisco website. This way, you can do the studies at your pace. There will be no need for you to rush with the study material which takes place in classes. This procedure is known to be the best for those professionals who are working professionals.

Cisco Official Website: It offers training courses and study resources for the applicants who want to get all details and in-depth knowledge about the exam concepts.

Online Free Materials: There are online free study resources that are available to the applicants. These tools can be very helpful, but the applicants should be very careful when choosing those they want to take. It is important to go through some blogs that will help you stay updated on the recent changes and subjects among the study resources.

Cisco 300-415 ENSDWI Practice Tests: Practice makes perfect. So, you are expected to attempt the practice tests for the Cisco 300-415 exam. You can get these practice tests from online websites and solve them systematically.
Conclusion
The Cisco 300-415 certification exam can be the turning point in your career. Presently, Cisco solutions are used by most organizations across the globe, so the relevant certifications give infinite benefits to professionals and help them excel from the group. Also, a lot of resources are available for professionals to help prepare for the certification exam. So, if you are looking for a tool that would unlock your real potential and boost your career, look no further than the practice test provided by NWEXAM.com.