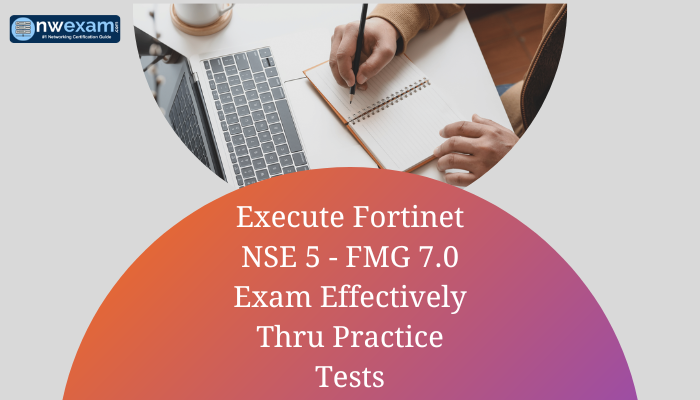 Fortinet does more than develop security devices; they also offer certifications to deliver superior network security. Out of eight certifications from cybersecurity awareness to certified cybersecurity professionals, the NSE 5 is in the center of the pack – an advanced professional certification in utilizing Fortinet devices. Here we will talk about The Fortinet NSE 5—FortiManager 7.0 (Fortinet NSE 5 - FMG 7.0) exam.
What is Fortinet NSE 5—FortiManager 7.0 (Fortinet NSE 5 - FMG 7.0) Exam?
The Fortinet NSE 5: FMG 7.0 exam evaluates practical knowledge of FortiManager configuration, operation, and everyday administration and comprises operational scenarios, device registration, system configuration, and troubleshooting.
Fortinet NSE 5 - FMG 7.0 Exam Details
Exam Name: Fortinet NSE 5—FortiManager 7.0

Exam series: NSE5_FMG-7.0

Time Duration: 70 minutes

Exam questions: 35 multiple-choice questions

Language: English and Japanese
Fortinet NSE 5 - FMG 7.0 Exam Preparatory Guide
The Fortinet NSE 5 - FMG 7.0 exam requires more practice and preparation, so let's discuss the essential steps the applicants require to follow to get through the exam. So, the applicant should begin their preparation by exploring the official page of the Fortinet NSE 5—FortiManager 7.0 exam.
1. Explore the official Fortinet Website
The initial step in the Fortinet NSE 5 - FMG 7.0 exam preparatory journey is to explore the official webpage. It is a vital step to pass the Fortinet NSE5 FortiManager exam. From here, you can comprehend the prerequisite, skills needed to pass the exam, registration options for the exam, exam cost, blueprint of the exam, and finally, any relevant updates to the exam pattern.
2. Understand the Fortinet NSE 5 - FMG 7.0 Exam Objectives
One thing you ought to understand is that Fortinet training and certification exams are highly complicated. Even seasoned working professionals tend to fail these exams when faced with such complex questions. Every Fortinet Network Security certification exam demands thorough preparation and planning. Simply speculating on the questions will not lead to success in the exam.
Fortinet provides an explicit exam description before every exam with a detailed list of topics and sub-topics. The syllabus of the Fortinet NSE 5 - FMG 7.0 certification exam is as follows-
Administration

Device Manager

Policy and objects

Advanced configuration

Troubleshooting
3. Refer to the Books and Study Guide
The applicant can buy the study guide or books from the Internet easily. The Fortinet NSE 5 - FMG 7.0 exam study guide incorporates all the essential information about the exam, such as objectives, exam structure, explanation of topics in detail, and so on. So, for robust preparation, the candidate should avail of the appropriate study guide.
4. Gauge Your Learning with Fortinet NSE 5 - FMG 7.0 Practice Test
The more practice the applicant has, the more it is useful for them. Generally, there are a lot of Fortinet NSE5 practice tests available online. So, the applicant can take up the practice tests from one of the reliable providers, such as nwexam. Moreover, the applicant will perceive how the NSE 5 - FMG 7.0 questions will be asked in the actual exam. Also, the practice test on nwexam equips you with real-time experience in practicing the Fortinet NSE 5 - FortiManager 7.0 exam. Additionally, the exam-taker can also take up practice tests to identify their weak areas and improvise them.
5. Create a Study Plan
It is vital to have proper Fortinet NSE 5 - FortiManager 7.0 exam preparation and a specific schedule to ensure you cover all the syllabus topics. Making a study plan will help in learning the syllabus in sufficient time. Ideally, it is even essential to know how it is efficiently prepared.
6. Training Courses
The most productive method to crack the Fortinet NSE 5 - FortiManager 7.0 certification exam is to take up the training course. This assures that the applicant can cover all the vital concepts in the syllabus and also help them master each topic on time.
7. Participate in Online Communities and Forums
Participating in online communities and forums can help an applicant to boost their exam preparation. You can meet like-minded people in such communities. You can communicate with other group members and find answers to your questions.
In addition, you would also get a chance to talk with subject matter specialists and better your preparation approaches. Most importantly, you can meet study buddies for your preparation in such communities and forums.
Why Take Fortinet NSE 5 - FMG 7.0 Practice Test?
There are many advantages of taking a practice test before the actual Fortinet NSE 5 - FMG 7.0 NSE 5 Network Security Analyst exam. It assists you in boosting your exam preparation. If you are looking for more reasons to convince yourself concerning why you must give practice tests before Fortinet NSE 5 - FortiManager 7.0 exam, keep on reading!
1. Helps Identify Weak Areas
Practice tests are an excellent way to identify your weak areas. While you attempt a Fortinet NSE5 FortiManager practice test, you will encounter some questions you do not know the right answer for. These questions are from your weak areas. You can focus on these topics so that you have corrected your learning by the time you opt for the actual exam.
2. Fortinet NSE 5 - FMG 7.0 Practice Tests Are a Great Revision Aid
Practice tests are a great revision aid. On the nwexam website, they are created to the same quality standards as actual exams and will equip you with:
a practical reflection of your preparation level

a result history of helping you plan and direct your further learning

Feel the exam environment so you understand what to expect in the actual exam.
Practice Tests are taken anywhere and should be employed once you've studied the complete Fortinet NSE 5 syllabus.
3. Enhances Your Accuracy
Performing practice tests on the nwexam website will improve your accuracy. The more practice questions you attempt, the more understanding you will acquire in dealing with such. This will, in turn, help you improve your accuracy.
4. Helps in Improving the Speed
Once you evolve a habit of answering the type of questions asked in the Fortinet NSE 5 certification exam, your speed of answering such questions will improve by itself. By attempting practice tests, your mind will get used to tackling them, and you will not take much time to answer them.
Conclusion
Fortinet certifications help professionals to acquire real-world skills. By passing your Fortinet NSE 5 - FortiManager 7.0 exam and advancing your skills, you prove your desire to adopt the latest technology trends. To crack the Fortinet NSE 5 - FortiManager 7.0 certification exam, you need to be thoroughly prepared. For that, review all the materials available on the Fortinet website first and then get the most useful training course and practice tests from nwexam.