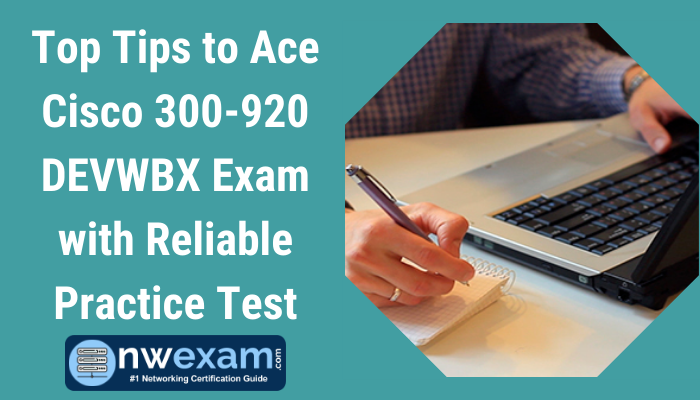 Cisco DevNet Specialist Certification is the specialist level certification of the Cisco Software Developer Certification track. This DevNet Specialist Certification equips you with specialized knowledge about network application development, security, operations, etc., on different Cisco platforms and APIs. Those individuals who are aspiring to achieve the DevNet Specialist certification must pass only one exam to become certified. This blog will focus on Cisco 300-920 DEVWBX: Developing Applications for Cisco Webex and Webex Devices exam.
Cisco DevNet Specialist 300-920 certification confirms an applicant's Webex development knowledge about Webex API foundations, Webex Meetings, WebEx Devices, messaging, embedding Webex, and administration and compliance. There also are no prerequisites to opt for this specialist certification. Cisco DevNet Specialist certification is valid for three years. As a Cisco-certified professional, you have resilient options to recertify when you satisfy eligibility requirements through the Cisco Continuing Education program.
Cisco 300-920 DEVWBX Exam Objectives:
Webex API Foundation

Meetings

Devices

Messaging

Embedding Webex

Administration and Compliance
Cisco 300-920 DEVWBX Exam Preparation Tips for the Applicants
It is essential that the candidates get good marks to become certified. Here are a few tips that will help you with the preparation for this Cisco certification exam.
1. Understand the Syllabus In Details
The first tip is that every applicant should keep their syllabus with them throughout the preparation. It is more suitable that you remember your Cisco 300-920 exam syllabus to not ignore any vital information that you require to study.
2. Set Up Study Schedule
Every applicant requires to make a study schedule to systematically study for the Cisco DevNet Specialist 300-920 exam. You can make a study plan according to your schedule. However, it is essential to be consistent with your preparations. This will keep you on track and will help you with the preparation as the exam comes closer. Do not make the mistake of leaving the whole syllabus to complete in last week. There is no chance that you will complete the whole syllabus in a week and pass the Cisco DEVWBX exam with a good score.
3. Use Cisco 300-920 DEVWBX Exam
Cisco 300-920 DEVWBX practice tests have to be attempted every day once you have learned all the concepts. Analyze the results and evaluate your mistakes and weak areas. These are the things you require to work on to fill the knowledge gap. With the practice test, you can enhance your time management skills and complete the exam in a given time. NWExam provides the most reliable Cisco practice tests.
Below is mentioned a few reasons why you should definitely attempt Cisco 300-920 DEVWBX practice tests provided by NWExam to your preparation:
Awareness of the exam structure

Immediate results for performance analysis

Improve speed and accuracy

Time management skills

Motivation
4. Experience Matters
Make sure that you get some practical experience so that you can polish your skills. Most of the Cisco 300-920 exam questions are based on the practical understanding of the professional.
5. Schedule The Cisco 300-920 DEVWBX Exam Intelligently
Make sure that you only take the exam when you think that you are all prepared. Determine how much time it will take to complete the entire Cisco 300-920 DEVWBX syllabus, and only then schedule your exam. If you are too busy with your job, take sufficient time to finish preparation with your work.
6. Participate in Discussion Groups
It is important to get involved in a discussion group as it helps you combine your knowledge and skills with your peers. In most instances, a discussion group is a good way to fill your knowledge gaps with group members.
It is a mixture of skills, concepts, and methods to understand the main concepts evaluated in the certification exam. Moreover, you can share study resources, tips, and other tools that boost your exam preparation.
Benefits of Earning Cisco Certification
Cisco certified professionals are among the highest-paid IT professionals across the world.

Cisco certifications confirm skills in networking, one of the rapidly-growing and most adaptable IT domains.

Resumes with Cisco certifications acquire the attention of hiring recruiters and organizations.
Conclusion
Cisco DevNet Specialist certification is acknowledged globally and can get you substantial career benefits. To pass the Cisco 300-920 DEVWBX exam, you must prepare thoroughly. The NWExam website gives the best sets of practice tests to boost your preparations. Be smart and select a reliable platform to ensure your success in the exam. Good luck!