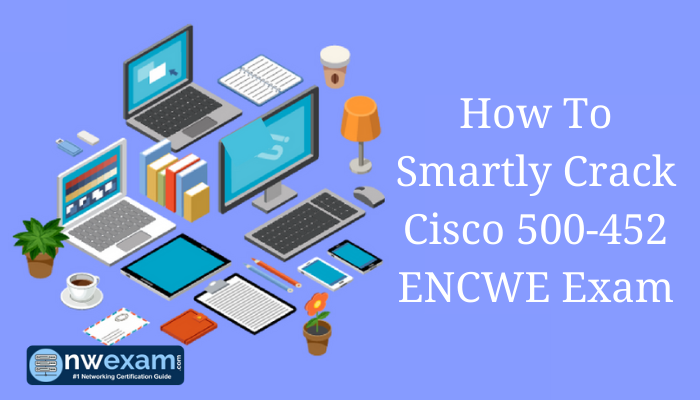 What are your prime career objectives? Can you specify them? Are you ready to strike milestones to enhance your skills and become the best in your field? Maybe you will say that your prime objective is to get a higher salary. Needless to say, the most significant motive behind every job position is a big paycheck. That's absolutely what a career in IT fetches, but only if you make the right moves. Receiving a big paycheck demands you first acquire mastery of your skills. In this article, figure out how you can accomplish both the mentioned goals by passing the 500-452 ENCWE: Cisco Enterprise Networks Core and WAN Exam.
Overview of Cisco 500-452 ENCWE Exam
Cisco 500-452 ENCWE exam evaluates an applicant's knowledge of the IWAN solution, along with determining its components and features, its advantages, and how to execute each part successfully as an end-to-end network solution. The Cisco IWAN solution is highly valued by our clients who aim to enhance their network routing services while also enhancing their main point through application visibility, control and optimization, and traffic offload to the Internet, among other IWAN options.
Cisco 500-452 ENCWE Exam Details:
Exam Name: Cisco Enterprise Networks Core and WAN Exam

Exam Code: 500-452 ENCWE

Exam Price: $300

Duration: 60 minutes

Number of Questions: 30-40

Passing Score: 750-850 / 1000
Essential Tips on how to pass the 500-452 ENCWE Exam On Your First Try
In this section, we will provide some tips that you can follow to ensure your success. So, here are the tips to pass the Cisco 500-452 ENCWE exam on the first try:
1. Use Reliable Study Resources
The worldwide web may have a lot of inexpensive or even free study resources related to the Cisco 500-452 exam. But, these resources may contain inappropriate information. Other than using official resources, we suggest you should do a detailed analysis of the credibility of any other sources you may want to study.
2. Chart Out Study Plan and Strictly Follow
Preparing for a professional certification without a study plan is a Big No, as this typically results in poor preparation for the exam. Having a thoughtful study plan will allow you to keep track of your goals and help you perceive what you have already mastered and what topics require further learning.
3. Take Cisco 500-452 ENCWE Practice Test
Practice tests are one of the best means to assess your preparation level for the Cisco 500-452 ENCWE exam. Yet, exam takers must be very cautious not to lean their choice on fraud websites to take up Cisco 500-452 ENCWE practice test. You can perform reliable and updated practice tests from NWExam.com and attempt them once you have studied all the Cisco ENCWE exam topics.
4. Study Groups
Exam takers can learn with their peers if they join the relevant community. Here, you will encounter helpful discussions about exam preparation and will be able to learn from the experiences of other exam takers and certified professionals.
Top Reasons to Pass Cisco 500-452 ENCWE Exam
Why pass Cisco 500-452 ENCWE exam? Below, you will encounter a few reasons to pass this Cisco exam and earn the certification.
1. Enhance Your Skills
Cisco 500-452 ENCWE certification exam provides a way for you to demonstrate to the potential organization, or your present organizations, that you hold the skills you say you do. They don't simply measure what you know but also how to accomplish tasks and how to deal with problems. For example, Cisco 500-452 exam questions measure your practical skills by expecting you to accomplish certain tasks.
2. Boost your Career
There's no better way to boost your career in the IT field than to achieve an appropriate certification that will increase the number of your high-pitched job opportunities.
3. Higher Salary
The value of Cisco certification can never be overlooked. Cisco is a leading organization that the world acknowledges for its products, services, training, and certifications. This indicates that when you hold one of its certificates, you will be a well-known IT professional. The job positions you will qualify for draw higher salaries, giving you an opportunity to enjoy the fruits of your hard work.
4. Attractive Resume
Resume is the only thing that talks about the education, knowledge, skills, and work experience that one has gained in your life. Once you have listed Cisco 500-452 ENCWE certification on your resume, you will be all set to work in an esteemed organization. The hiring managers believe that such professionals will be a valuable asset to the organization and work efficiently.
5. Build Self-Confidence
Cisco 500-452 certification builds up the self-confidence to use for the job they desire of being a part of. The skills and expertise acquired through certifications build the confidence to work with the latest technology.
Conclusion
Cisco 500-452 ENCWE exam is a real exam that should be passed if you are enthusiastic about extending it to extra curriculum levels. Thus, you should ensure that you pass the exam with a flying score. You will certainly acquire distinct knowledge and opportunities that will help you grow in your profession.