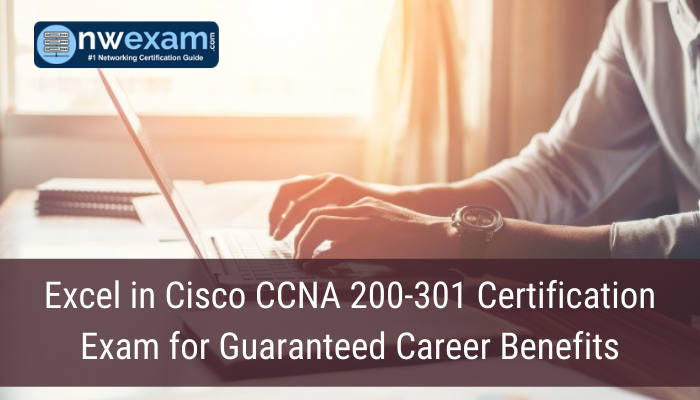 Presently, multinational corporations and tech houses are on the lookout for skilled networking specialists, and one benchmark that meets their list of requirements has the Cisco CCNA certification. You can achieve this certification once you pass the CCNA exam, coded 200-301, which is rather difficult and tricky.
What's Included in Cisco CCNA 200-301 Exam?
The CCNA certification exam doesn't have any strict requirements. The exam is administered through any Pearson VUE testing center. You can obtain the details of the exam registration on the Cisco official website. CCNA 200-301 can be taken in the English and Japanese languages. To take the test, the candidates have to pay a fee of $300.
The topics included in the Cisco 200-301 exam include the following:
Network Fundamentals (20%)

Network Access (20%)

IP Connectivity (30%)

IP Services (10%)

Security Fundamentals (15%)

Automation and Programmability (10%)
Though there is not any former prerequisite, Cisco recommends that professionals who have a minimum of one year of prior experience working with Cisco products will have a greater possibility to pass the exam on the first attempt. Still, you can gain the required skill during studies if you are thorough in preparation.
Cisco CCNA 200-301 Exam: Tips and Tricks to Pass
Achieving the CCNA certification is a process that requires thorough planning and dedication. But, there are also several tips to use to make this path more straightforward. They are as follows:
Preparation Tips for Cisco 200-301 Exam
The CCNA exam certifies one's skills in installing, troubleshooting, configuring, and operating basic switched & routed inter networks. To help acquire competence in the exam topics, it's vital to explore all available learning material and options. Here are a few preparation tips that will help you:
1. Create a Practical Study Plan
Before beginning the preparation process, it is useful to elaborate a study plan and include different resources. That will help you properly manage your time and ensure that all the exam topics are included.
2. Get the Appropriate Resources
Ensure you use only trusted online platforms to prepare for the Cisco exam. There is plenty of online platforms providing valid and updated study materials.
3. Gain Hands-on Experience
The Cisco 200-301 exam demands both theoretical and practical expertise. In this respect, the official training course is a great help. It combines various prep tools, such as instructor-led lectures (both virtual and class-based), virtual labs, and self-study materials, that will give total engrossment in the exam content.
4. Use CCNA 200-301 Practice Tests
Practice tests will help you get practical experience with the exam topics and structure. You'll find plenty of practice tests online to help you receive the required exam-taking skills. As with other learning materials, make sure you use reputable sites for your practice exam.
5. Participate in the Online Community
Sharing your knowledge and experiences with others can also be an efficient tool for preparation. Find the relevant online community and actively participate in the discussions with other participants to enhance your upcoming exam performance.
But why stress yourself and sit for the 200-301 exam and CCNA certification? Keep on reading to discover the benefits of earning the CCNA certification:
Benefits of Earning CCNA 200-301 Certification
1. More Intense Knowledge and Skills
It wouldn't be wrong to say that preparing for the Cisco 200-301 exam works as a learning curve for potential networking professionals. It helps you to explore the theoretical and practical facets of organizational networking to gain in-depth knowledge and outdo the competition regarding employment and salaries. Even if you are already a networking professional, the CCNA certification will help you sharpen your skills and receive promotions quicker than your colleagues.
2. The Perfect Resume and Continuous Updates of Your Skills
With many professionals in the networking field, you require some distinct skills to make your resume excel, and the Cisco CCNA certification offers that advantage. No hiring manager will overlook an applicant who comes with earlier knowledge and skills. Moreover, this certification is valid for three years, allowing you to concentrate on updating more skills before you begin applying for leading organizations and businesses.
3. Higher Financial Gains
If you are looking for a salary increase in your present organization, you must consider earning the Cisco CCNA certification.
It will give you a competitive edge over your colleagues concerning the financial perks. If you browse the leading job portal sites, you will notice that CCNA certified professionals receive $78,284 yearly.
4. CCNA 200-301 Paves Way to Higher Cisco Certifications
Passing exam 200-301 and earning the CCNA certification will work as a benchmark for you to achieve more higher-level Cisco certifications and get acknowledged for higher-level jobs in the field. The higher your qualification is – the better advancement you can target in your career. No organization can afford to lose an employee with a distinct skill set. So you are bound to enjoy perks.
5. Higher Viability
Cisco is the leading global tech organization that offers networking certifications. Still, a Cisco certification is easier to pass as this Cisco provides a less extensive outline of the CCNA syllabus. The restricted extent of the outline in the CCNA 200-301 syllabus also helps you to take up a Microsoft certification all together and makes your resume even stronger.
At the End
All in all, the Cisco CCNA can prove to be a life-transforming certification for ambitious professionals, allowing them to scale up the organizational ladder quicker than their peers. And if you are one of them, all you have to do is design a focused and detailed study plan, avail reliable study materials for 200-301 exam prep, and enjoy all the benefits that this badge can get you! Good luck as you study hard to receive your Cisco accreditation!