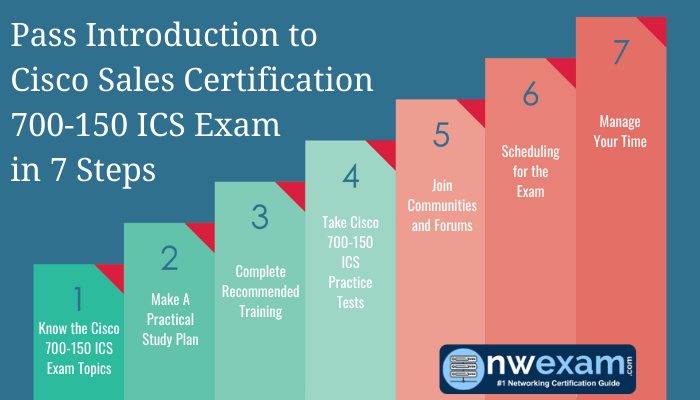 This Introduction to Cisco Sales certification has been created to provide account managers with a foundational-level understanding of Cisco architectures, products, and solutions. The emphasis is on how sales personnel can competently sell and align Cisco solutions to their customers' business requirements. To achieve this certification, one must pass the Cisco 700-150 ICS exam.
Cisco 700-150 ICS Exam Details:
The Introduction to Cisco Sales (700-150 ICS) exam is a 90-minute exam comprising 55-65 questions. The Cisco 700-150 exam cost is $80. Moreover, the exam is available in English and Japanese languages.
Cisco 700-150 ICS Exam Objectives
Cisco Certification (10%)

Selling Collaboration Solutions (16%)

Selling Security Solutions (18%)

Selling Cisco's Enterprise and Digital Network (22%)

Selling Cisco's DC and Cloud Architecture (18%)

Cisco's Approach to Selling (16%)
Study Guide for Introduction to Cisco Sales Certification 700-150 ICS Exam
1. Know the Cisco 700-150 ICS Exam Topics
Knowing the exam details and its syllabus topics is the first step towards a solid foundation of exam preparation. All the information is available on the Cisco website. It's greatly recommended that you go through this to understand the comprehensive areas that your exam will measure.
2. Make A Practical Study Plan
The following step in Cisco 700-150 ICS exam preparation is to create a realistic study plan. Studying for the 700-150 ICS exam demands a lot of commitment, but this doesn't signify that you have to exhaust yourself. If you design a practical study plan, you can split up the workload and study all of the topics in sufficient time without stressing yourself out.
3. Complete Recommended Training
Learning from experienced Cisco certified experts is also a significant way of developing skills in the CIsco 700-150 ICS exam objectives. "Introduction to Cisco Sales (ICS)" is the recommended training course for this Cisco exam. You can get all the details about this recommended training course on the Cisco website. In this training course, you can explore to acquire skills in the technical tasks to be gauged in the certification exam.
4. Take Cisco 700-150 ICS Practice Tests
Practice Tests help you obtain an intense revision by allowing you to answer Cisco 700-150 exam questions smoothly. Once you've studied all the exam topics, start taking Cisco 700-150 ICS practice test to identify your weak areas and work upon them. So, go with the practice tests provided by NWExam.com to get the best out of your preparation
5. Join Communities and Forums
Getting engaged in online communities and forums can also help you prepare, and they can help you improve your self-confidence. You can freely ask your doubts in online communities, which incorporates people who are also preparing for the same Cisco exam, have passed the exam, or an experienced professional. The discussion also helps in learning the concepts in detail.
6. Scheduling for the Introduction to Cisco Sales (ICS) Exam
On the Pearson VUE website, create a Pearson VUE account. However, if you're having trouble making a Pearson VUE account, use the link on the page to get in touch with the Pearson VUE customer care staff.
7. Manage Your Time
90 Minutes for 55-65 questions seem quite less time. And moreover, Introduction to Cisco Sales (ICS) exam is challenging and includes tricky questions. If you manage your time wisely, you can answer all the Cisco 700-150 exam questions efficiently. Read the question carefully and then answer; if you are not sure about the answer, leave it and come back to it later. Try to answer easy questions first. Be calm and composed during the exam.
Reasons Why Should You Pass Introduction to Cisco Sales 700-150 ICS Exam
You acquire unique and most sought-after skills.

You are entitled to a prestigious certification from a globally renowned vendor - Cisco.

It proves your dedication to your job because you know the significance of enhancing your skills.

You get access to lucrative and excellent job opportunities.

There's an opportunity for advancement to higher positions, which brings big paycheques.

There's a chance of being promoted when you receive your certification.
At the End
If you have the right information, Cisco 700-150 study material, and a robust learning approach, passing the Introduction to Cisco Sales (ICS) exam is not tough. You will be able to crack the exam with enough preparation and dedication. However, you must sharpen your skills and utilize the best Cisco 700-150 study resources.