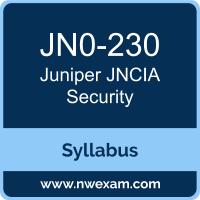 A great way to start the Juniper Networks Certified Associate Security (JNCIA-SEC) preparation is to begin by properly appreciating the role that syllabus and study guide play in the Juniper JN0-230 certification exam. This study guide is an instrument to get you on the same page with Juniper and understand the nature of the Juniper JNCIA Security exam.
Our team of experts has composed this Juniper JN0-230 exam preparation guide to provide the overview about Juniper Security Associate exam, study material, sample questions, practice exam and ways to interpret the exam objectives to help you assess your readiness for the Juniper JNCIA-SEC exam by identifying prerequisite areas of knowledge. We recommend you to refer the simulation questions and practice test listed in this guide to determine what type of questions will be asked and the level of difficulty that could be tested in the Juniper JNCIA Security certification exam.
Juniper JN0-230 Exam Overview:
Juniper JN0-230 Exam Topics:
Section

Objectives

SRX Series Devices

Identify concepts or general features of SRX Series devices
- Interfaces
- Hardware
- Initial configuration
- Traffic flow/security processing
- vSRX

Junos Security Objects

Identify concepts or general functionality of security zone, screen, address, or services objects
- Zones
- Screens
- Addresses/address books

Security Policies

Describe the concepts, benefits, or operation of security policies
- Zone-based policies
- Global policies
- Application firewall
- Unified security policies
- IPS/IDP
- Integrated user firewall

Sky Advance Threat Prevention

Identify the concepts, benefits, or operation of Sky ATP
- General operation
- Blocking mechanisms

Network AddressTranslation

Describe the concepts, benefits, or operation of NAT
- Source NAT
- Destination NAT
- Static NAT

IPsec

Identify the concepts, benefits, or operation of IPsec VPNs
- IPsec tunnel establishment
- IPsec traffic processing
- IPsec site-to-site VPNs

Unifild Threat Management

Identify the concepts, benefits, or operation of UTM
- Content filtering
- Web filtering
- Antivirus
- Antispam

Monitoring/Reporting

Describe methods for monitoring, reporting, or logging for Juniper security solutions
- J-Web
- Sky Enterprise
- Junos Space Security Director
Juniper JNCIA-SEC Exam Description:
Designed for networking professionals with beginner-intermediate knowledge of the Juniper Networks Junos OS for SRX Series devices, this written exam verifies the candidate's understanding of security technologies and related platform configuration and troubleshooting skills.