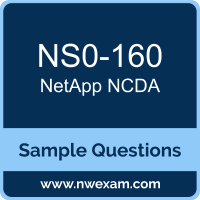 Before you write the NetApp NCDA (NS0-160) certification exam, you may have certain doubts in your mind regarding the pattern of the test, the types of questions asked in it, the difficulty level of the questions and time required to complete the questions. These NetApp Certified Data Administrator - ONTAP (NCDA ONTAP) sample questions and demo exam help you in removing these doubts and prepare you to take the test.
The best approach to pass your NetApp NS0-160 exam is to challenge and improve your knowledge. To test your learning and identify improvement areas with actual exam format, we suggest you practice with Premium NetApp NS0-160 Certification Practice Exam. The practice test is one of the most important elements of your NetApp Data Administrator ONTAP (NCDA ONTAP) exam study strategy to discover your strengths and weaknesses, to improve your time management skills and to get an idea of the score you can expect.
NetApp NS0-160 (NCDA ONTAP) Sample Questions:
01. You are replacing a FAS system that has several DS4243 disk shelves. The new system is an AFF A300. You want to reuse the DS4243 disk shelves with your new AFF A300.
In this situation, which NetApp tool would you use to confirm if the task is possible?
a) Active IQ
b) Config Advisor
c) Hardware Universe
d) Interoperability Matrix Tool (IMT)
In System Manager 9.3, performance data is being collected on which object shown in the exhibit?
a) SVM
b) node
c) storage
d) cluster
03. You created a dedicated SVM for CIFS on a FAS8200 2-node cluster using multiple disk types. In this scenario, which action ensures that this SVM hosts volumes only on SATA drives?
a) Edit the SVM resource allocation.
b) Assign all the SATA drives to a CIFS SVM.
c) Move the SAS and SSD aggregates to a different node.
d) Create a FlashPool aggregate with SATA drives.
04. A customer created a volume with the wrong language code. What should a customer do to correct this problem?
a) Delete the volume and create a volume with the correct language code.
b) Take the volume offline and change the language code.
c) Change the language code on the volume.
d) Change the language code on the parent storage virtual machine.
05. Which management tool would you use to add licenses to an AFF system?
a) NetApp Service Level Manager
b) OnCommand Unified Manager
c) OnCommand System Manager
d) OnCommand Insight
06. You must create a CIFS share for a replicated destination volume for read-only access to the files. In this scenario, which task must be completed before you create the share?
a) Break the replication.
b) Mount the volume.
c) Change permissions.
d) Set up the preferred domain controller.

NetApp supplied a replacement for a failed drive, but the replacement drive does not show up as a spare. Referring to the exhibit, which statement is true?
a) You exceeded the maximum drive count for the controller platform.
b) The failed disk was not sanitized before removal.
c) The automatic assignment policy is set to the default.
d) Automatic disk assignment is disabled.
08. In an HA pair, how many Intercluster LIFs are required for FabricPool?
a) 0
b) 1
c) 2
d) 4
09. You are creating a new SVM. In this situation, which object is automatically created in the system?
a) root aggregate
b) SVM root volume
c) root volume
d) SVM management LIF
10. Which two licensed protocols are assigned to an SVM for block protocols?
a) FCoE
b) FCP
c) CIFS
d) iSCSI
Solutions:
Question: 01

Answer: c

Question: 02

Answer: d

Question: 03

Answer: a

Question: 04

Answer: a

Question: 05

Answer: c

Question: 06

Answer: b

Question: 07

Answer: d

Question: 08

Answer: c

Question: 09

Answer: b

Question: 10

Answer: b, d
Note: If you find any error in these NetApp Data Administrator ONTAP (NCDA ONTAP) sample questions, you can update us by write an email on feedback@nwexam.com.