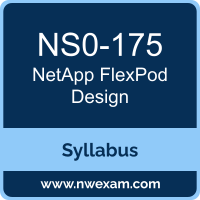 A great way to start the Cisco and NetApp FlexPod Design (FlexPod) preparation is to begin by properly appreciating the role that syllabus and study guide play in the NetApp NS0-175 certification exam. This study guide is an instrument to get you on the same page with NetApp and understand the nature of the NetApp FlexPod Design exam.
Our team of experts has composed this NetApp NS0-175 exam preparation guide to provide the overview about NetApp Cisco and NetApp FlexPod Design exam, study material, sample questions, practice exam and ways to interpret the exam objectives to help you assess your readiness for the NetApp FlexPod exam by identifying prerequisite areas of knowledge. We recommend you to refer the simulation questions and practice test listed in this guide to determine what type of questions will be asked and the level of difficulty that could be tested in the NetApp FlexPod Design certification exam.
NetApp NS0-175 Exam Overview:
NetApp NS0-175 Exam Topics:
Section

Objectives

Flexpod Design

- Describe FlexPod components based upon customer workloads
- Describe how to size a solution based on customer requirements in accordance with FlexPod best practices
- Describe the support options for FlexPod

Networking

- Describe Cisco networking components used within FlexPod designs
- Demonstrate knowledge of FlexPod networking configurations

Security

- Describe access control methods for FlexPod solutions
- Describe the considerations in building a secure multitenancy design

Tools

- Describe resources for determining supported FlexPod components
- Demonstrate knowledge of using tools for managing FlexPod
- Demonstrate knowledge of troubleshooting methodologies for FlexPod solutions
NetApp FlexPod Exam Description:
NS0-175 exam includes 60 test questions, with an allotted time of 90 minutes to complete. In countries where English is not the native language, candidates will be granted a 30-minute extension to the allotted examination completion time.