Cisco is a leading vendor in IT that draws thousands of applicants annually. They aim to be Cisco certified, as this organization is a real authority in this field. Thus, these people intend to get a better job, greater career prospects, and an excellent salary. Cisco provides certification for any taste.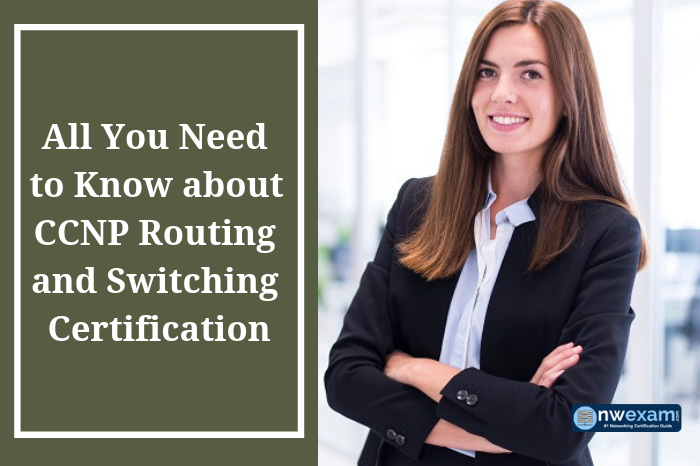 One of the most desirable certifications by Cisco is CCNP Routing and Switching. It gives networking professionals with the skill to execute, plan, verify, as well as to troubleshoot the composite network enterprise. CCNP Routing and Switching also equip the applicants with the ability to collaborate and work with very proficient specialists on expanded voice, security, video, and wireless solutions.
What is CCNP Routing and Switching Certification?
As an IT professional, you should recognize that CCNP Routing and Switching certification has specific prerequisites that must be satisfied. The specific requirements that you should acknowledge are:
An applicant must have experience of at least one year in the networking field. Besides, one should be ready to learn to enhance the skills already received in the field.
An approved Cisco CCNA Routing and Switching certification or any of Cisco CCIE certification can serve as a prerequisite in Cisco CCNP Routing and Switching certification path.
For the applicant wish to acquire CCNP Routing and Switching certification, one should crack three certification exams. The order of appearing for the exam does not matter since every exam is administered separately.
To Achieve CCNP Routing and Switching Certification, You Need to Clear the Following Exams:
This exam, Cisco 300-101, measures whether the applicants are familiar with the principles needed to execute Cisco IP Routing. 300-101 is a perfect certification for CCNP and CCDP certified professionals. After passing the exam, the applicants are authorized in practicing a complex IP address as well as routing methods in securing Cisco routers. They are also qualified with excellent skills in executing routers which are related to IPV6, LANs, and WANs.
Cisco 300-115 is a qualifying exam for certifications such as Cisco CCDP and Cisco CCNP. It confirms that the applicants have the skills and expertise in validating, planning, and configuring the detailed enterprise switching solutions which utilize Cisco Enterprise Campus Architecture.
Cisco 300-135 certification is centered on testing the skills practiced in managing and troubleshooting Cisco IP Networks. It is also a qualifying exam for the Cisco CCNP certification. 300-135 TSHOOT exam confirms that the applicant has achieved the skills and expertise that are efficient in:
Practicing systematic compatible approach in conducting network troubleshooting

Implementing and planning maintenance on minute switched networks and detailed enterprise route
300-101 ROUTE exam and 300-115 SWITCH exam comprise of multiple-choice questions, while 300-135 TSHOOT exam primarily includes hands-on simulations.
CCNP Routing and Switching certification are worth spending the money. The individuals who are passionate about networking and aspire to establish their career in networking can obtain these certifications. CCNP Routing and Switching certifications give one a feeling of achievement, makes one a productive professional, exposes one to higher earnings and gives job security. CCNP Routing and Switching is a great deal, so you should consider earning this certification.
Benefits of CCNP Routing and Switching Certification
CCNP Routing and Switching certification have a series of benefits that come with it. It retains a prominent and relevant position in the networking industry. Having CCNP certification indicates a good command over the Routing and Switching skills. Below are some of the benefits of CCNP Routing and Switching certification:
Skills and knowledge acquired during the learning of CCNP Routing and Switching certification exam provide a firm base that makes an individual competent of working in physical and virtualized networks of existing and future.

This certification helps the applicant to acquire great jobs in the networking field. The holder can be self-confident of receiving a higher salary since CCNP Routing and Switching certification is continually associated with high-qualified professionals.

Holding CCNP Routing and Switching certification reveals the holder to a diversity of improvements as they can work in various organizations. The paramount skills achieved are destined to a variety of promotions in organizations that utilize networking to accomplish their goals.

Once an applicant has earned CCNP Routing and Switching certification, they become "desired professionals" by organizations which demand the professionals with a piece of intense expertise in routing and switching. This is because CCNP Routing and Switching exams expect one to demonstrate his/her proficiency in every concept learned.

The benefits and respect a CCNP holder gains are very well-defined. This is as a result of a rigorous process one undergoes to earn the certification. A very few people possess this credential.

CCNP Routing and Switching certification do not require the candidate to do all the exams in a particular order to get certified. This is very beneficial to the applicant because one can concentrate and create a proper and practical study plan.
Job Opportunities
CCNP Routing and Switching is a sturdy certification that requires to work in labs, quality studying, and passing exams. Being a certified professional, one is revealed to various jobs such as:
Network Technician

Network Engineer

System Administrator
Professionals with CCNP Routing and Switching certification are capable of receiving considerably more than their uncertified colleagues. The average annual salary for the professionals with this certification is $10,2786.
Way Forward
CCNP R&S certification proves one's expertise to work collaboratively with a professional in wireless, security, voice and video solutions domains. For the applicants interested in getting CCNP Collaboration certification and working as network engineers whose daily tasks are to execute support of video, voice and messaging applications in organizations, applicants need to pass four exams. 300-075 exam is one of them, and it examines one's skills to execute Cisco IP Telephony and Video.
According to the career path, the prerequisite for enrolling for the CCNP certification exam is to get CCNA Collaboration certification. Cisco offers a broad variety of certification. Still, they are logically structured and can be easily tracked. It's up to you which one to take.
Conclusion
It is obvious that the certification comes with a lot of benefits to both the professional and the organization. The professionals working in industries which apply the routing and switching techniques should consider achieving this certification. A great future will be expecting you after achieving the Cisco Certified Network Professional certification in the field of routing and switching.