As one of the most reputable programs in the field, the Cisco Channel Partner Program can help you enhance your technical expertise, improve customer satisfaction and commitment, optimize profitability, expand your business, and create greater credibility with clients. In this post, we will shed light on Cisco Video Infrastructure Design: 500-701 VID exam.
Cisco Video Infrastructure Design 500-701 VID Exam Information
Cisco Video Infrastructure Design (500-701 VID) is a 90-minute qualifying exam with 65-75 questions that measures an applicant's understanding of the skills required by a systems engineer to comprehend a Cisco Video Collaboration Solution.
Cisco 500-701 VID Exam Objectives
Advanced Cisco Expressway Features (45%)

Advanced Cisco Meeting Server Features (15%)

Cisco Collaboration Meeting Room Solutions with Cisco TelePresence Server (10%)

Cisco TelePresence Management Suite Solution (10%)

Cisco Cloud Solutions (20%)
This section looks at Cisco 500-701 VID exam preparation tips that will support you with your exam preparation and assure you are set for success in the exam.
Cisco Video Infrastructure Design 500-701 VID Exam Preparation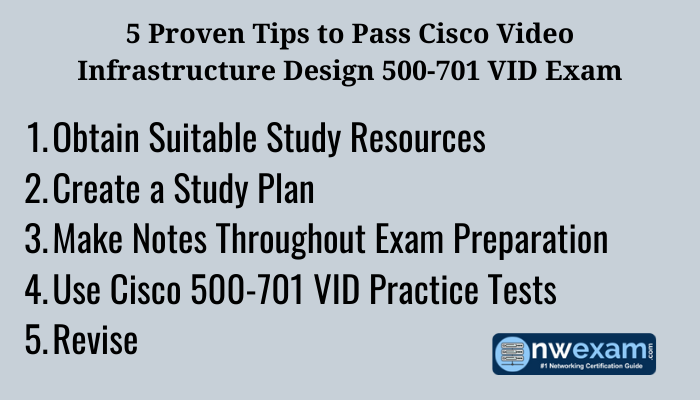 1. Obtain Suitable Study Resources
There is no way you can have a productive exam preparation without obtaining proper resources. This is why it is advisable that you read over the Cisco 500-701 exam objectives before you start your preparation. This will provide you with basic knowledge of what is expected from you in the exam. After comprehending the exam syllabus topics and the different skills you are expected to develop before sitting for the exam, you can go ahead to choose the study resources that will help you evolve those skills. Many study resources are available for the exam-takers, but you have to select them sensibly. Use materials that have been developed by experienced professionals. This will ensure that you have the appropriate and updated resources for the Cisco Video Infrastructure Design exam.
2. Create a Study Plan
Cisco exam preparation without a proper study plan is a big No!! You need to create a solid study plan and follow it strictly. Determine what you need to study and assign enough time for each exam topic. Create a study plan keeping in mind the exam objectives and start with the easy topics first. And distraction is your beggest enemy when studying for Cisco 500-701 VID exam. So, make sure you put away your smartphone and avoid other distractions when studying for this exam.
Along with this, do not wait for the weekend for exam preparation. Make sure you study every day so that you can learn each exam topic and avoid last day cramming.
3. Make Notes Throughout Exam Preparation
Reading over the whole study resources three-time is next to impossible. Hence, make notes of important topics during your preparations. Write them down for later revision. Be a little creative while making notes, like using colored pens to highlight important points.
It is recommended to read over the notes immediately you have made as the concept is still fresh in your mind, and you easily remember topics that you have missed.
If you leave it till a later time, you might not remember some important points you skipped. Two weeks before your scheduled exam date, start revising the notes and become familiar with all the points written down. This will help you keep things fresh in your memory.
4. Use Cisco 500-701 VID Practice Tests
Once you have studied all the Cisco 500-701 exam topics, start taking practice tests. Cisco 500-701 practice tests help you gauge your preparedness. It also allows you to identify your weak areas in the exam syllabus topics. By performing Cisco 500-701 VID practice tests on NWExam.com, you will improve your exam-taking skills. Practice tests on the NWExam website also help you to get familiar with the question types and exam structure.
5. Revise
When your scheduled exam date is closer, start going through the notes. And make sure to give more emphasis on the topics you scored poorly. Moreover, don't miss anything to avoid overlooking some important concepts in the exam. Refresh your mind frequently until you are very relaxed about acing the exam.
When the exam date finally comes, do not be nervous. Bear in mind that you have done your best in terms of exam preparation. Just be calm, rest well before the exam and deal with the exam questions competently.
Conclusion
Cisco 500-701 VID exam is not tough for the individuals who prepare for it. Hence, follow the tips highlighted above and equip yourself with the skills and knowledge you require to achieve your desired score in the Cisco Video Infrastructure Design exam.