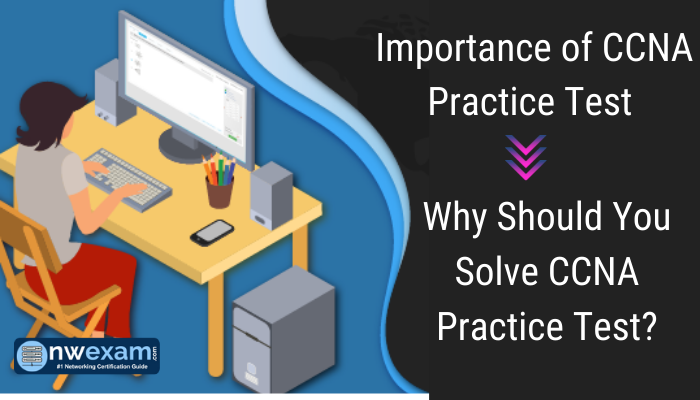 Today, there's a massive demand for network engineers in the field. Still, you need to have a definite level of practical experience to be eligible for these job profiles. This is where earning Cisco CCNA certification comes into play. CCNA 200-301 is the industry-standard networking certification designed for network administrators, network support analysts, engineers, and data center operations. With a CCNA certificate, you can acquire the missing knowledge and skills to become a coveted specialist. Let's dive into the details of this associate-level certification and discuss how you can obtain it with the help of the CCNA practice test.
The CCNA certification confirms the applicant's skills and expertise in network access, network fundamentals, security fundamentals, IP services, IP connectivity, automation, and programmability. There are no official prerequisites to sit for this Cisco certification exam. Despite that, the candidates are advised to have one or more years of practical experience with the implementation and administration of Cisco solutions. They also require a basic knowledge of IP addressing and a good comprehension of network fundamentals. To obtain CCNA certification, you need to pass the Cisco 200-301 exam.
This is a 120-minute test available in the English and Japanese languages. To schedule the exam, you have to sign up with Pearson VUE, the official administrator of the Cisco tests. Schedule a suitable date and register for your exam. After passing the exam, you will get the digital badge to add to your CV and link to your Linkedin profiles.
How to Prepare for CCNA 200-301 Certification Exam?
How can you pass Cisco 200-301 with a good score? The first thing you require to do before preparing for this certification test obtains the exam blueprint. This document should direct your preparation as it includes the details of the exam topics to be mastered before taking the actual exam. To develop expertise in these exam syllabus topics, you can enroll in the training courses.
Cisco gives plenty of study resources, including the CCNA Preparation Bundle, Cisco Press self-study materials, instructor-led training course, CCNA practice tests, and many more. You can also avail of the CCNA practice test from other reliable and trusted platforms to gauge your preparation level. Moreover, taking a practice test is vital for Cisco exams.
How CCNA Practice Test Is Useful for Your Cisco 200-301 Preparation?
If you are wondering why CCNA practice tests are considered the most useful tool for passing the actual exam. Read the below section.
With the CCNA practice test, you become familiar with the CCNA exam topics, which is also helpful in several ways. Finally, practice tests help applicants sharpen their skills as solving dump questions allows professionals to gauge themselves and identify their weak areas that require improvement. This way, individuals can concentrate on their mistakes and correct them to tap into higher scores.
Why Take CCNA Practice Test?
A CCNA practice test is the only way to assessing your current level of preparation and re-strategize your plan of practice. It also makes you acquainted with the type of questions that are likely to be asked in the actual exam. If you can solve as many CCNA practice questions as possible, your possibility of passing the exam with good score increases. Results of the practice test inform applicants on which topics they have already mastered. They can then adjust their learning to other aspects and spend the minimum time on the subjects they already have mastered.
1. CCNA Practice Test Make Acquainted With the Actual Exam
Practice test mimic the actual exam. They have been written by seasoned professionals. Giving the real CCNA exam can be an eye-popping experience, with the exact time constraints, the pressure, the concentration needed, and much more. CCNA practice test will help to get familiar with real exam conditions. If you are taking a mock in a proctored environment, it's going to make you acquainted with the exam-taking method and the time management as necessary for the examination day. It also will bring into the open the stress and examination environment you will have uncovered on the actual exam day.
2. Acquire Time Management Skills
A vital part of the Cisco 200-301 exam is to answer 90-110 questions in 120 minutes. Which means you have 1.23 minutes to answer each question. And most of the questions require more time than this. So, time management becomes crucial for Cisco 200-301 exam, and you can measure this better through the CCNA practice test. When you first start giving mocks, you will realize that you have consumed way more time on specific questions that may not have been required. Sometimes, you might not even be able to answer the desired number of questions because of this. Giving practice test will help you in this matter to a considerable degree. You will perceive how much time to assign to each question, which to solve, and which ones to skip only through the practice test.
3. Identify Strong and Weak Topics
Practice test will make you analyze your's more powerful and weaker topics. You must work on the topics that give you a hard time, and at the same time, keep practicing the ones that you promptly score on. Often, when you are solving a particular topic, you may be able to answer every question. But the moment it comes with the practice test, you get completely lost. All these kind of issues can be identified and solved when you attempt CCNA practice test. You will also figure out the questions that you can solve no matter what, and you will then be able to do well in this strong point at all costs in the actual exam.
4. Helps in Defining Your Strategy
You require to have a robust strategy for Cisco 200-301 exam. Now, this strategy can be dependent on the individual. Everyone learns differently. So how do you know what works best for you? The answer is a practice test. When you answer CCNA practice questions, you come to know your strengths and weakness.
You will understand which topics are an ideal win for you and which will keep rolling in the maze. Understand all these aspects, and know precisely what you want to solve and give up during the actual Cisco exam.
5. Provides Motivation
It wouldn't be wrong to say that practice tests boost motivation to allow you to perform well. As you notice yourself getting better and improving your knowledge and understanding after each CCNA practice test, you would surely continue performing much better.
Conclusion
The Cisco 200-301 exam is not the most challenging exam out there if applicants go through and take up the CCNA practice test from NWExam.com. Such resources are excellent means for your exam prep that give an opportunity to evaluate your knowledge, better grasp the information required, and master your skills.