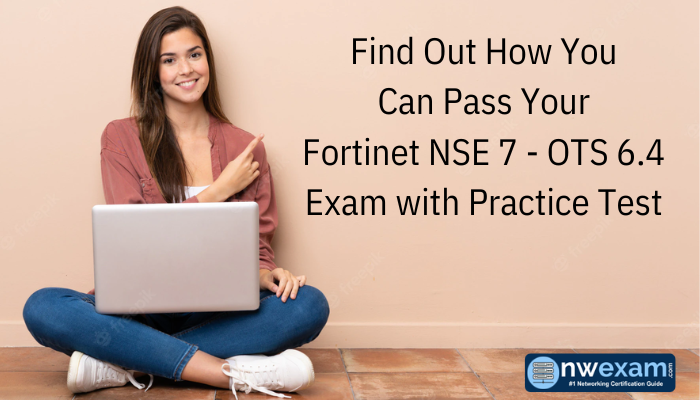 The Fortinet NSE 7: Network Security Architect certification confirms your up-to-date skills and expertise to deploy, manage, and troubleshoot Fortinet security solutions. This post will focus on Fortinet NSE 7 - OTS 6.4 certification.
Overview of Fortinet NSE 7 - OTS 6.4 Certification
This Fortinet NSE 7 - OTS 6.4 exam evaluates the applicant's skills and knowledge of Fortinet products in an OT environment. This Fortinet NSE 7 exam consists of 35 questions that need to complete in 60 minutes. Fortinet NSE 7 - OT Security 6.4 exam includes the following concepts:
Asset Management

Network access control

Protecting OT network

Monitoring and risk assessment
How to Prepare for the Fortinet NSE 7 - OTS 6.4 Exam?
It's typical knowledge that your success in passing any exam relies on how much time and effort you put into it and what study resources you utilize. You can prepare for the Fortinet NSE 7 - OT Security 6.4 exam by exploring Fortinet's official website and following NSE Training Institute for the course that includes the sample questions, study guides, and practice tests. Below are few tips to help you pass this exam:
To successfully pass Fortinet NSE 7 OT Security exam, applicants should study and practice. The following are the tips that will help you ace the test successfully.

Make sure to learn every topic and objective of the exam in detail.

Learning from only one resource will not help you pass the exam, so study from different study resources.

Perform practice tests offered by nwexam. Make this a vital tool for preparing for the Fortinet NSE 7 - OT Security 6.4 certification exam.

Applicants should make a practical and realistic study plan and follow it strictly to avoid the last-minute rush.

Exam preparation should be carried out in a quiet environment. This will boost your level of understanding of the Fortinet NSE 7 - OTS 6.4 syllabus topics.

In the preparation journey, with the exam date's pressure that can be confounding, you must have faith in yourself. Relax and eat well, have a sufficient sleep, and stay calm while ensuring you remain confident and energetic.
Reasons to Take Up Fortinet NSE 7 - OTS 6.4 Practice Test
1. Improves Time Management Skills
Practice tests provided by nwexam are time bound. So attempting them will help you determine that you take too much time answering questions, and if so, you can improve your speed.
2. Become Familiar with Question Types
You might require more time to interpret and answer the questions in the real exam. So, you can utilize practice test questions to get familiar with the questions types and structure of the exam. This avoids the surprise element in the exam and boosts your confidence.
3. Review your Result
Always review your result after each attempt of the practice test session. By reviewing them, you can identify your preparation level and where you need to focus. Practice tests from nwexam.com come with immediate results, which makes it more straightforward for your to gauge your preparedness.
Reasons to Obtain Fortinet NSE 7 - OTS 6.4 Certification
Fortinet NSE 7 - OTS 6.4 Certification Draws Professional Credibility
You spontaneously acquire professional credibility when you have the relevant certification. Passing Fortinet certification exams are not a piece of cake and needs time and money, and hard work. Furthermore, studying and passing the Fortinet NSE 7 OT Security certification exam demonstrates your dedication to the profession and makes you a more valuable employee.
Improves Job Security
A common way organizations reduce costs is by cutting back on staff. This also suggests that the organization will keep multi-skilled and highly talented professionals on the job. With a Fortinet NSE 7 OT Security certification, you are an asset to your organization based on your updated skills and expertise because your organization will have all the reasons to keep you carrying out the tasks efficiently and smoothly.
It Gives You Self-Satisfaction
Your greatest dream as a professional in your industry may include being at the highest level of your job, skill level, or management level. The Fortinet NSE 7 OT Security certification can pave you toward your dream, serving you as a great source of satisfaction.
Conclusion
Certifications are always an added advantage, especially when it is from the renowned vendor Fortinet. With a Fortinet NSE 7 - OTS 6.4 certification having your name on it, organizations will start to acknowledge the skills that you own. Therefore, it will be easier for you to get your dream job and relish other perks. Just concentrate on learning all the topics and performing practice tests on nwexam, and you will be all ready to ace the NSE 7 - OTS 6.4 - FortiOS 6.4 exam.