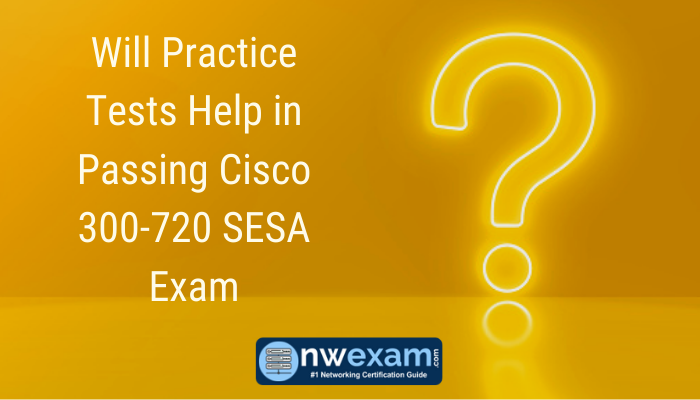 Obtaining Cisco CCNP Certification is the best way if you are working towards or presently managing an advanced, professional-level security career. While there are no official prerequisites, applicants often have three to five years of experience implementing security solutions. In this article, we will talk about the CCNP Security concentration exam - Cisco 300-720 SESA: Securing Email with Cisco Email Appliance.
Cisco 300-720 Exam Details:
The CCNP Security 300-720 (SESA) exam confirms your understanding of Cisco Email Security Appliance, including administration, spam control, anti-spam, message filters, data loss prevention, and Lightweight Directory Access Protocol (LDAP), email authentication and encryption, and system quarantines and delivery processes.
Cisco 300-720 SESA Exam Syllabus Topics:
Cisco Email Security Appliance Administration (15%)

Spam Control with Talos SenderBase and Antispam (15%)

Content and Message filters (20%)

LDAP and SMTP Sessions (15%)

Email Authentication and Encryption (20%)

System Quarantines and Delivery Methods (15%)
Exam Structure
Exam Name: Securing Email with Cisco Email Security Appliance

Exam Code: 300-720 SESA

Number of Questions: 55-65

Length of Time: 90 Minutes

Registration Fee: $300

Exam Language: English, Japanese
Perks of Obtaining Cisco 300-720 SESA Certification
1. Great Job Prospects
Having a certification from leading and prestigious vendor Cisco will make your resume stand out. Competition for Networking jobs is stiff, and holding CCNP Security 300-720 SESA certification is a great benefit compared to those who don't have one.
In some situations, the significance of certification is extremely high when certification is requisite for a job. If two applicants have the same work experience applying for a definite job profile, the certified applicant would have the preference. In short, a Cisco certification can assure that hiring managers give your CV a second look. Certainly, a promising way to get great job prospects.
2. Higher Retention Rate
There are those moments when organizations face difficult times. In such thin times, organizations are looking for ways to reduce their costs. Some of them are cutting down salaries or letting go of some professionals. With Cisco CCNP Security certification, you become one of the most coveted employees in your organization, and the possibilities of being held even when others are going are very high.
3. Qualify for the Promotion
Whenever the administration finds opportunities for promotions, they look at their workers' certifications to review those who are dedicated to their profession. Those who hold more experience and relevant certification in networking security are the first choices for promotion.
4. Higher Salaries
By earning Cisco CCNP Security certification, you become skilled in that field. As an expert, you qualify for a higher salary. This brings you closer to accomplishing your financial goals.
5. Acquire Knowledge and Skills
Throughout the preparation for Cisco 300-720 SESA exam, you will get valuable knowledge and skills. This keeps you updated with current technologies and also takes your career to new heights.
Tips to prepare for Cisco 300-720 SESA Exam
Use the appropriate study resources

Find out your learning style

Chart out a study plan and follow it

Read questions carefully

Answer all the questions

Manage your time
Study Resources for Cisco 300-720 SESA Exam Preparation
To pass Cisco 300-720 SESA exam with good scores, you need to have a solid grasp of its objectives. To obtain this, applicants have to prepare appropriately. This can be obtained in many ways using different study resources listed below:
1. Official Training Course
For Cisco exam preparation, self-study is not enough; you should enroll in an online training course offered by Cisco. For Cisco 300-720 SESA exam, Cisco offers a "Securing Email with Cisco Email Security Appliance (SESA) v3.1" training course. You can take up this course and provide yourself an opportunity to master all the exam objectives from expert instructors.
The Cisco certified instructors have the skills, expertise, and experience to pass the exam with good scores. They know not only what they should teach the applicants but also how to train them. Expert instructors can help the applicants in many ways. For example, they will help you chart out a plan to assure that you utilize your time smartly. They will also assist you in learning and understanding every exam topic in a well-organized manner.
2. Cisco 300-720 SESA Study Guide
Study guides are beneficial for thorough learning and understanding of topics. Applicants should use them early to learn all the topics from scratch. The advantage of using the Cisco 300-720 SESA study guide is that one can devise a self-study plan that suits their learning style.
3. Online Communities and Forums
There are many online communities and forums to help Cisco exam takers. Online communities are the best platform to learn from like-minded people and make understanding complex concepts less challenging. Cisco also has a forum for exams 300-101 on its website where applicants can study together and learn from experts and past exam takers.
4. Videos
You should also find the videos related to this Cisco exam. Be sure to remain in an informative group and surroundings. YouTube is the best platform you can find such videos free of cost.
5. Cisco 300-720 SESA Practice Test
Practice tests are very useful and can be used even by applicants who have a busy schedule and only have a confined time to study. Applicants who have taken a lot of Cisco 300-720 SESA practice tests before the exam day has had tremendous success in actual exams. Moreover, they are an outstanding means for you to choose to revise the exam concepts.
Importance of Cisco 300-720 SESA Practice Test in the Preparation
Practice tests are beneficial in many ways. But it is vital to verify the reliability of the platform you are taking practice tests from. NWExam,.com is one such website that provides updated and reliable practice tests for Cisco exam preparation. Below are some benefits of the Cisco 300-720 SESA practice test from NWExam.com.
1. Get Familiar with the Difficulty Level of the Exam
Practice test gives you a chance to become familiar with the exam structure and difficulty level of the exam. Practice questions give you an insight into the difficulty level of the exam. It helps you know the type of questions and how to deal with them.
2. Point Out Weak Topics
Practice tests on NWExam.com are prepared by experts, so the questions from all the topics are included in the exam. This way, you come to know which topics you are weak in and require to work on. The best thing about the practice test is that your skills get enhanced, and you perceive more about Cisco 300-720 exam syllabus and structure.
3. Enhanced Time Management Skills
In this Cisco exam, you are given 90 minutes to answer all the questions. You cannot exceed the timing. Hence, you need to enhance your time management skills. Luckily, the practice test gives you this opportunity. When you attempt Cisco 300-720 practice tests, you get to learn how to finish the exam in a given time.
Concluding Thoughts
CCNP Security certification offers a promising career to IT professionals. The Cisco 300-720 exam adds the skills and expertise to the professionals with the help of its rigorous exam structure and syllabus. So, you have to be well-prepared to pass it. Still, if you use the practice test from NWExam.com to prepare for your Cisco 300-720, passing it will be a walk in the park. All the Best!