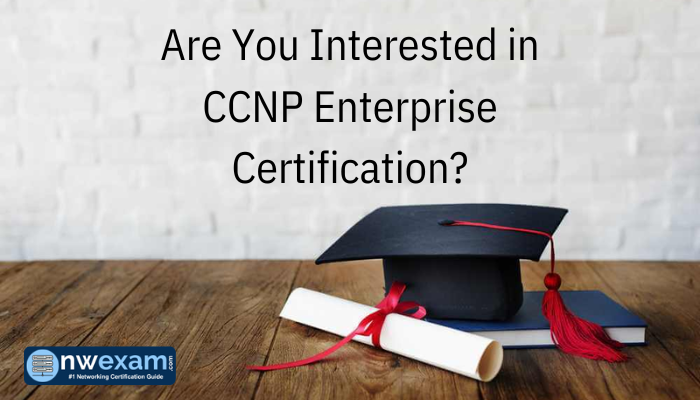 The best technological developments are taking place, as we can notice. Thriving businesses relish fantastic outcomes in this way. Foremost, linking people, machines, things, and applications is straightforward, and automation is required nonetheless. Because of the opportunity to evolve and protect their network infrastructure, businesses nowadays immensely benefit from it. The CCNP Enterprise certification now comprises several specialization exams, and there is ample to go through because there is one core exam and six CCNP Enterprise concentration exams. This post will examine the CCNP certification path and help you pick the ideal CCNP Enterprise Specialist exam.
What is CCNP - Cisco Certified Network Professional?
Cisco Certified Networking Professional (CCNP) is the upper level of CCNA and requires a significantly profound knowledge of many distinct technologies and tasks. It is to anticipate at the CCNA level. Cisco Certified Networking Professionals typically work as senior network engineers in various backdrops. The CCNP can work as a team leader guiding junior-level network engineers in their assignments or as an individual engineer working on multiple technologies/devices.
Which CCNP Enterprise Certification Exam Should You Take?
CCNP Enterprise Core Exam 350-401 ENCOR Is a Must
Whatever CCNP Enterprise concentration exam you select, you must pass the 350-401 ENCOR core exam. The details and concepts covered in this exam pertain to enterprise network management, security, and troubleshooting. All candidates for the CCNP must pass the core exam because the contents apply to all CCNP Enterprise concentration exams.
This kind of division has two benefits:
All CCNP-certified individuals convey a variety of basic abilities and values.

CCNP Enterprise certification exams focus on concepts touching the field.
The Six CCNP Enterprise Concentration Exams
To achieve your CCNP Enterprise certification, you can couple the 350-401 ENCOR with six concentration exams. We'll dive into each section below and discuss which job descriptions a particular exam might be a good fit for as we go.
1. Utilizing Cisco's advanced routing and services for businesses (300-410 ENARSI)
Given its concentration, the CCNP Enterprise specialist exam 300-410 ENARSI is ideal for:
Network engineers

Senior network administrators
2. Setting Cisco SD-WAN solutions into practice (300-415 ENSDWI)
Given its specialty, the CCNP Enterprise specialist exam 300-410 ENSDWI is a suitable choice for:
WAN engineers

Solution designers focusing on SD-WAN and edge technologies
3. Generating Cisco Business Networks (300-420 ENSLD)
Given its concentration, the CCNP Enterprise specialist test 300-420 ENSLD is an appropriate option for:
Network managers

Network architects
4. Forming Cisco Business Wireless Networks (300-425 ENWSLD)
Given its area of specialization, the CCNP Enterprise specialist exam 300-425 ENWSLD is suitable for the following:
Wireless sales engineers

Wireless design engineers
5. Putting Cisco Enterprise Wireless Networks into Practice (300-430 ENWLSI)
Given its area of specialization, the CCNP Enterprise specialty exam 300-430 ENWSLI is best fit for:
Wireless integrators

Wireless engineers
6. Cisco Enterprise Solutions Automation (ENAUTO 300-435)
The CCNP Enterprise concentration exam 300-435 ENAUTO is designed for:
Network automation engineers

DevOps engineers.
Conclusion
We hope this article has helped you decide which CCNP Enterprise concentration exam you should take. It is vital to remember that there are no wrong answers, and the purpose is to match your certification process to your professional objectives. Determine where you want to go and take the CCNP Enterprise concentration exam that matches your goals. NWexam offers practice tests to help you in prepaing for the CCNP Enterprise exams.